Thought leadership content is insightful, compelling, and establishes you or your business as an authority in your industry.
From the outset, thought leadership content is a type of creative content that provides answers, solutions, and establishes a foundation of trust that keeps your audience engaged and returning for more.
In this post, we'll explore what it means to be a thought leader – and how to position yourself as a credible expert in your field.
If you want to become the Brené Brown or Seth Godin of your industry, keep reading for a breakdown of thought leadership content to leverage in your marketing strategy.
What Is Thought Leadership Content?
Thought leadership content is a strategy marketers use to position themselves as authorities or experts in a specific industry. Once recognized, they become a go-to resource for visitors looking for valuable and helpful content related to their field.
What Does it Mean to Be a Thought Leader?
A thought leader is an individual who creates content audiences find helpful or valuable.
What sets a thought leader apart is their individuality and the ability to understand their brand and industry from a unique and comprehensive perspective.
They're an indispensable element of their brand's narrative and, from that standpoint, can generate unique and useful content their audience can turn to consistently.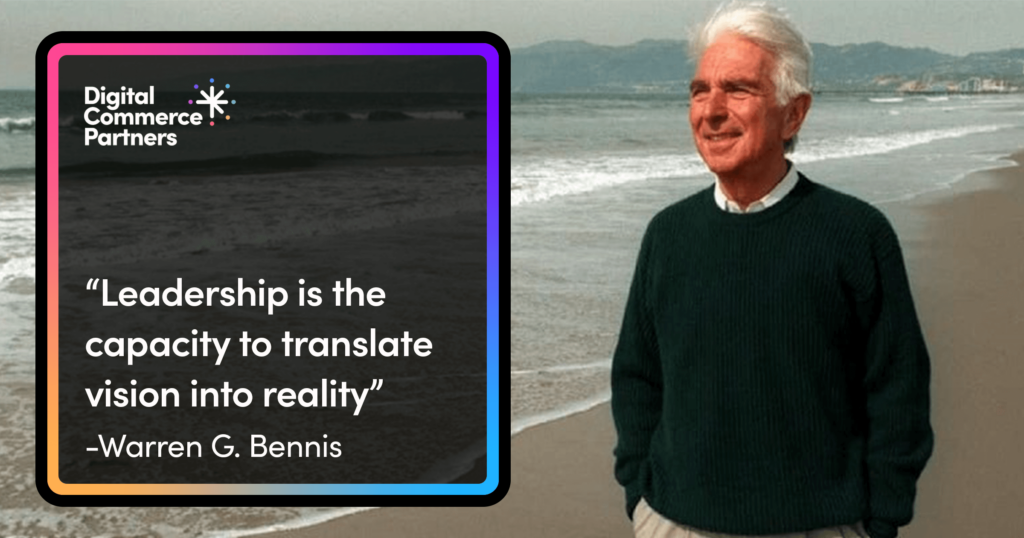 People look to thought leaders for their unique, genuine, and confident perspectives.
To illustrate the concept, let's look at some prominent thought leaders.
Get more leads with less effort.
If you want a steady flow of targeted leads, we've got a proven process for driving organic traffic and converting it into qualified leads.
4 Thought Leaders You Can Learn From
Below we'll run through a list of established thought leaders and look at what makes them authorities in their field.
Greta Thunberg
It's hard to mention the phrases "climate change" or "climate justice" without thinking of Greta Thunberg.
Her grassroots movement, Fridays for Future, started outside of the Swedish parliament when she was just 15 years old, has inspired people from all over the world to demand climate justice from their governments.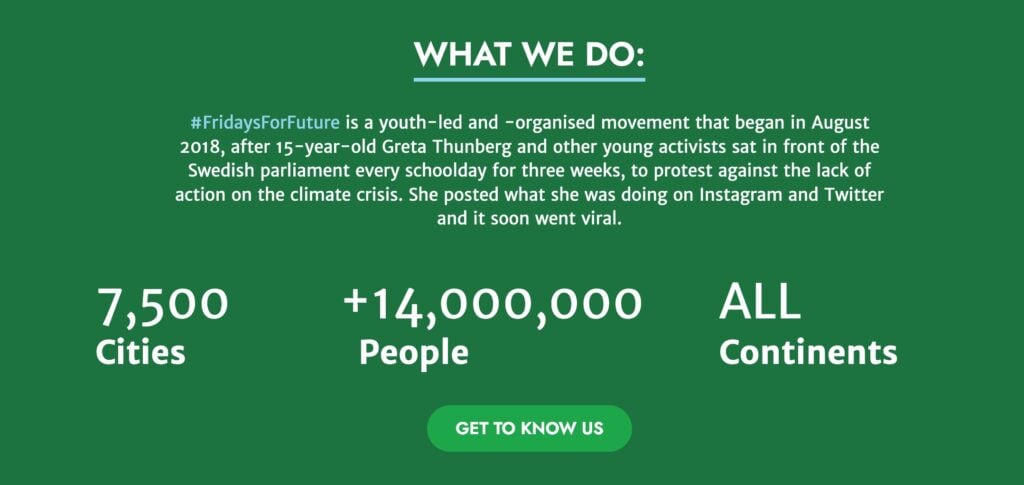 Since its founding, she has met with countless world leaders, spoken at some of the most prominent climate summits such as COP26, The U.N. Climate Action Summit, and the World Economic Forum.
She has also received three Nobel Peace Prize nominations for climate activism and was named Time's Person of the Year in 2019.
Her evident passion and knowledge about the dangers of climate change have made her an authority on the subject, and her opinion on climate policy carries a lot of weight in global affairs.
Dave Ramsey
Dave Ramsey is a financial expert. With a degree in finance and real estate, he has become an authority figure on financial topics, specifically when it comes to helping people pay off their debts.
His position as a thought leader was solidified when he began to produce content centered on his niche, including a radio show, a podcast, and books.
His podcast, The Ramsey Show, reaches over 18 million weekly listeners and delves into personal finance and debt management.
Seth Godin
Seth Godin, known as "the ultimate entrepreneur for the information age," is a best-selling author, business executive, and teacher whose name has become synonymous with marketing, advertising, and leadership.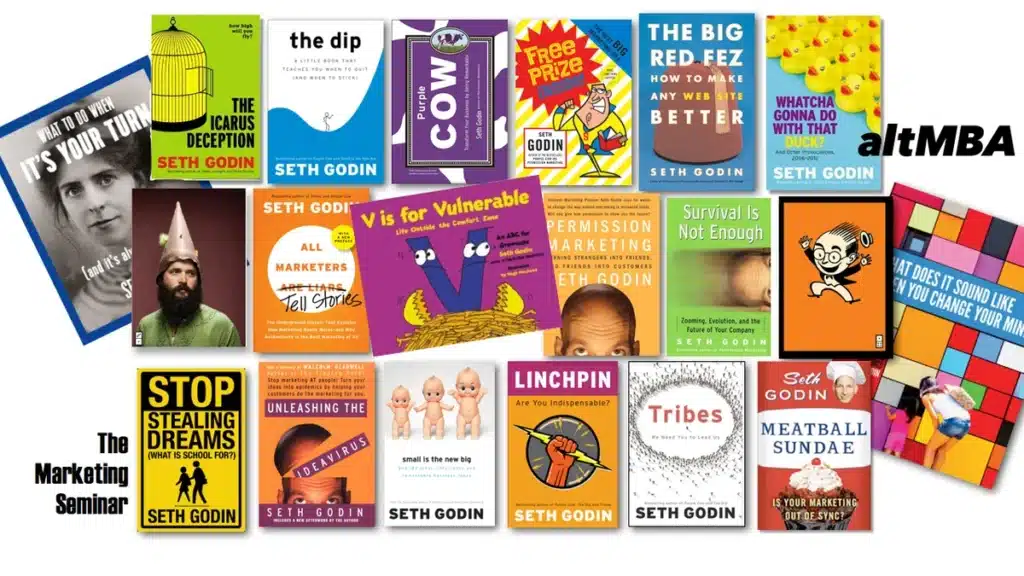 He's written seventeen books and runs a daily blog with over 7,100 posts and 500,000+ visitors per month, where he shares advice about business and marketing.
He also has several online courses about the same topics, and his authority is widely respected and revered. And, of course, we can't leave out the fact he's considered the inventor of commercial email.
Brené Brown
Brené Brown is a research professor at the University of Houston. Over the last two decades, she has dedicated herself to studying courage, vulnerability, shame, and empathy.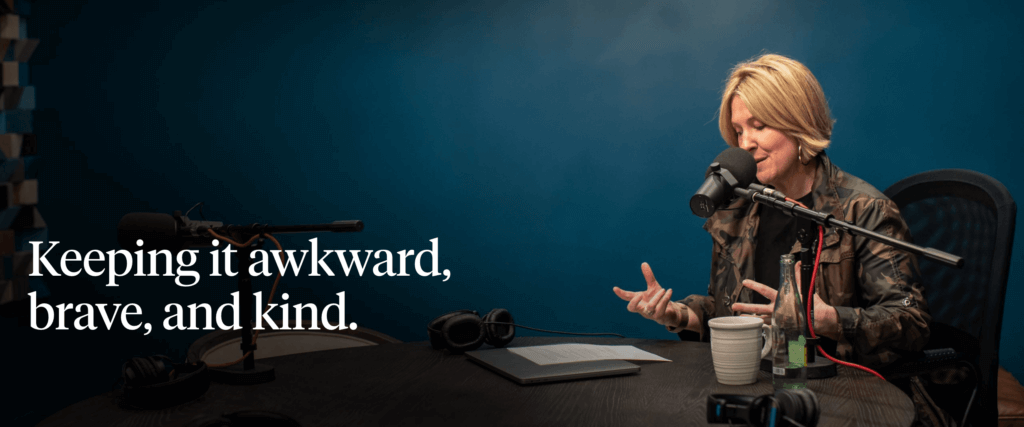 She rose to prominence with her 2010 TED talk, The Power of Vulnerability, which is now one of the top five most-watched TED talks globally with over 57 million views.
She is also the author of six #1 New York Times bestsellers, hosts the Unlocking Us podcast, and sets a precedent by producing and filming one of her lectures, The Call to Courage, exclusively for Netflix.
This combination of accolades has established her as one of the leading voices in the self-development movement, and she's often regarded as one of the world's most influential women.
5 Effective Types Of Thought Leadership Content
There are many different ways to produce and publish thought leadership content, and the type of industry you work in will dictate the best medium. There are several proven methods for getting results and establishing yourself as a thought leader:
Opinion articles (Op-eds)
Case studies
Industry analysis
Data storytelling
Interviews
Opinion Pieces and Counter-narrative Arguments
As a thought leader, what you think about a particular subject is highly valuable, so opinion pieces are an excellent way of getting your point of view across to your audience.
Counter-narrative opinions work to capitalize on the adage "any news is good news" and are useful for gaining exposure and traction.
A counter-narrative is a strongly-held opinion that goes against the grain of conventional or accepted wisdom in your industry.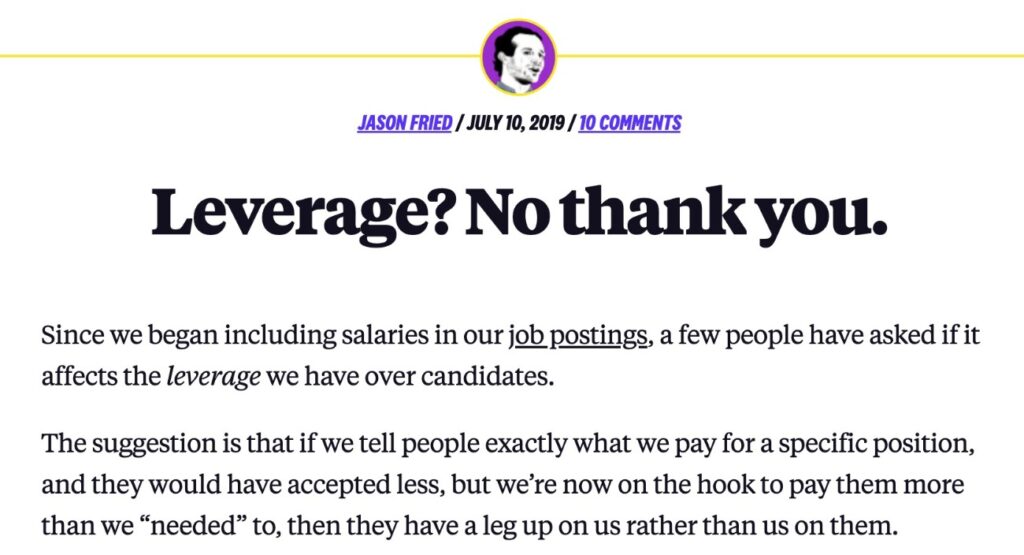 An excellent example of this style of thought leadership content can be seen by looking at the project management software company Basecamp. Cofounders Jason Fried and David Heinemeier Hansson have strong opinions about how to conduct business, and how not to.
This has manifested itself in strong counter-narrative arguments, including:
Most meetings are a waste of time.
Email clients are annoying and intrusive.
It doesn't have to be crazy at work.
Because these opinions are closely related to the software and services that Basecamp provides, they're not simply musings about the state of work in general — they're highly focused and effective modes of communication and a prime example of thought leadership. 
This thought leadership style builds a bridge between the brand and the audience who resonate with that opinion. This is the essence of effective content marketing.
Case Studies
Case studies are a type of leadership content leveraged using real-life data to prove your expertise in solving problems and providing solutions.
Case studies simultaneously create a compelling narrative around your expertise and business while delivering empirical results in a non-salesy format.
A case study can take the form of a personal, company, or customer narrative.
Case studies provide the opportunity to share the story of how a particular strategy was implemented and used throughout a project to help achieve a goal and, in doing so, demonstrates your capabilities as a thought leader.
---
How We Helped IA Path Get a 207% Increase in Traffic and 10X Their Leads
"If I wasn't sending emails, doing social media, or talking to people on the phone, leads and sales would dry up. Now I sell more and work less."

Chris Stanley
Founder and CEO, IA Path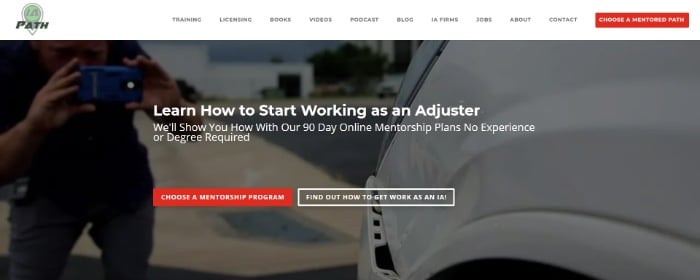 ---
We use this type of thought leadership content on our own blog. The case study for IA Path is a great example.
We craft a customer narrative that clearly lays out the problem, our solution, and the results.
In this case, Digital Commerce Partners managed to increase IA Path's traffic by 207% and their leads tenfold through a carefully considered and planned content development strategy.
Case studies are uniquely effective sales tools because they focus on the reader and their problems. Yet inadvertently showcase the results you provide with your expertise.
Industry Analysis
As a thought leader, you should be able to comment on your projects, the industry you work in, and associated trends.
An industry analysis begins with assessing the current state of a company or field in great detail, eventually tying it back to your own brand.
When creating industry analysis content, you might ask the following questions of the company or industry you're analyzing:
Is it succeeding? If so, why?
Is it failing? If so, why?
What did the company or industry do right, and what did it do wrong?
What were the market conditions like, and how did this affect success?
What does the future market for that industry look like?
By paying attention to what's going on around you and recognizing what's succeeding and what's failing – and the reasons for both – you can create winning industry analysis thought leadership content.
A good example is Hiten Shah, a co-founder of the access control system Nira. His blog post, Ahead of Its Time, Behind the Curve: Why Evernote Failed to Realize Its Potential, is a masterclass in converting product expertise into thought leadership content.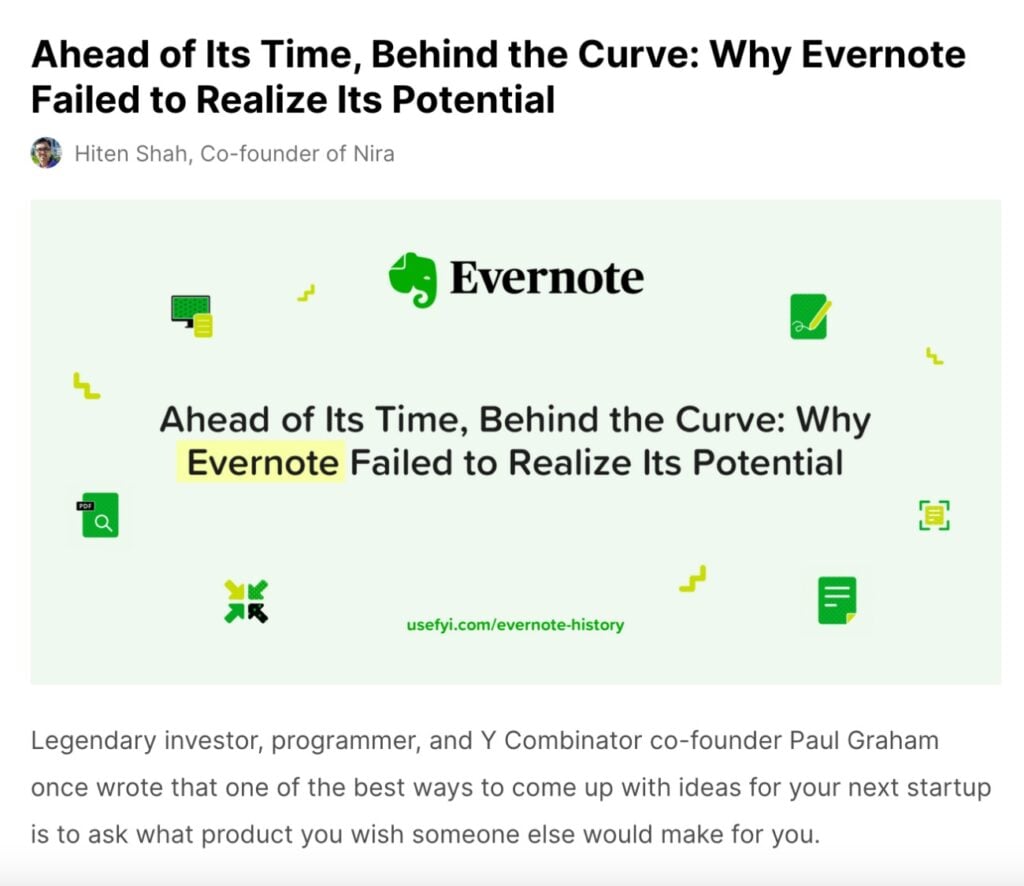 This blog post effectively outlines and analyzes why a hugely promising product like Evernote failed spectacularly – and establishes Shah as an authority in his field.
By sharing his thoughts, he's not only helping product managers avoid making the same mistake but demonstrating his wealth of knowledge on the subject. This resonates with product managers and inspires confidence in him and his product.
Data Storytelling: Sharing What You Know
You don't need to be in the data business to data tell a story. Data storytelling is just as effective when using aggregated data available to the public – which we all have access to.
Data can form the basis of thought leadership content that audiences want precisely because they don't have it – at least not in the format you've provided.
There are 17+ million readers eager to view data storytelling on Reddit's r/DataisBeautiful. Spend a bit of time scrolling through posts, and you'll see countless people and businesses leveraging data for marketing purposes.
Producing data is one thing, but being able to analyze it, predict trends, and craft a compelling story that communicates that data is where its true value lies.
When done right, data storytelling puts data in context to galvanize action from your audience.
Cyrus Shepard from Moz demonstrates this perfectly in his featured snippets experiment. He gathered data by performing an A/B test experiment to remove Moz Blog posts from Google featured snippets then measured the impact on traffic.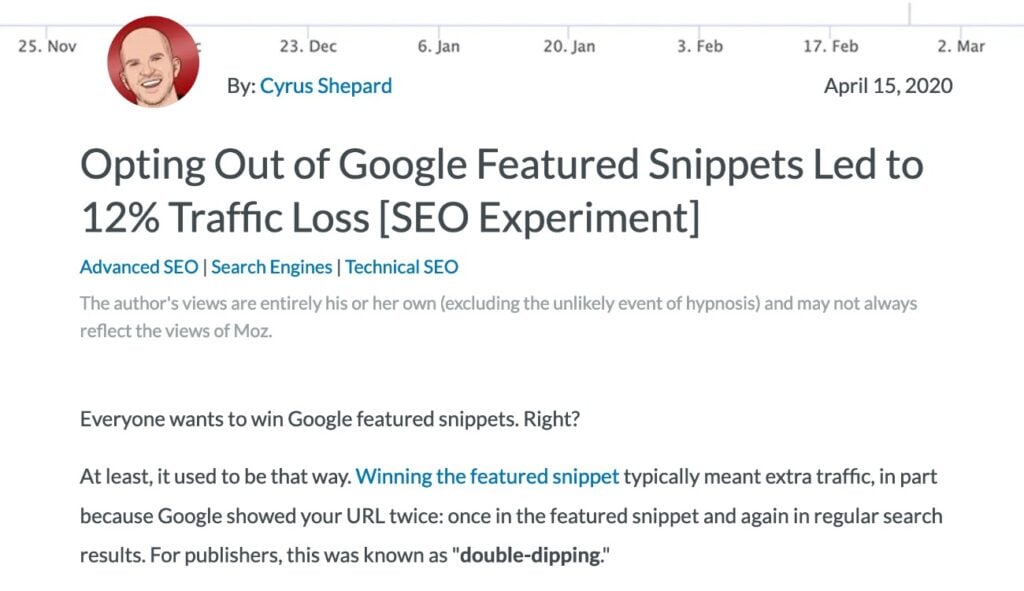 He shares his results and includes a complete analysis of the experiment. The outcome of this is two-fold: He provides this data for anyone interested in the problem while also demonstrating his expertise in SEO.
Interviews: Conversations That Resonate
This is the best way to start in thought leadership content if you lack confidence in your expertise.
You can interview experts in your industry and build content around these conversations, indirectly placing you as a thought leader in your market.
There are a few ways of publishing interview content:
As a video on a platform like YouTube
In an article, choice quotes from the interview can be used to enrich the content
As a podcast, allowing for long-form discussions about various industry-related topics
As a transcript, audiences can read a polished, written account of the interview
The content of an interview can cover a broad range of topics, but common themes include:
The thought leader's personal trajectory
How they grew their business
Valuable insights learned through trial and error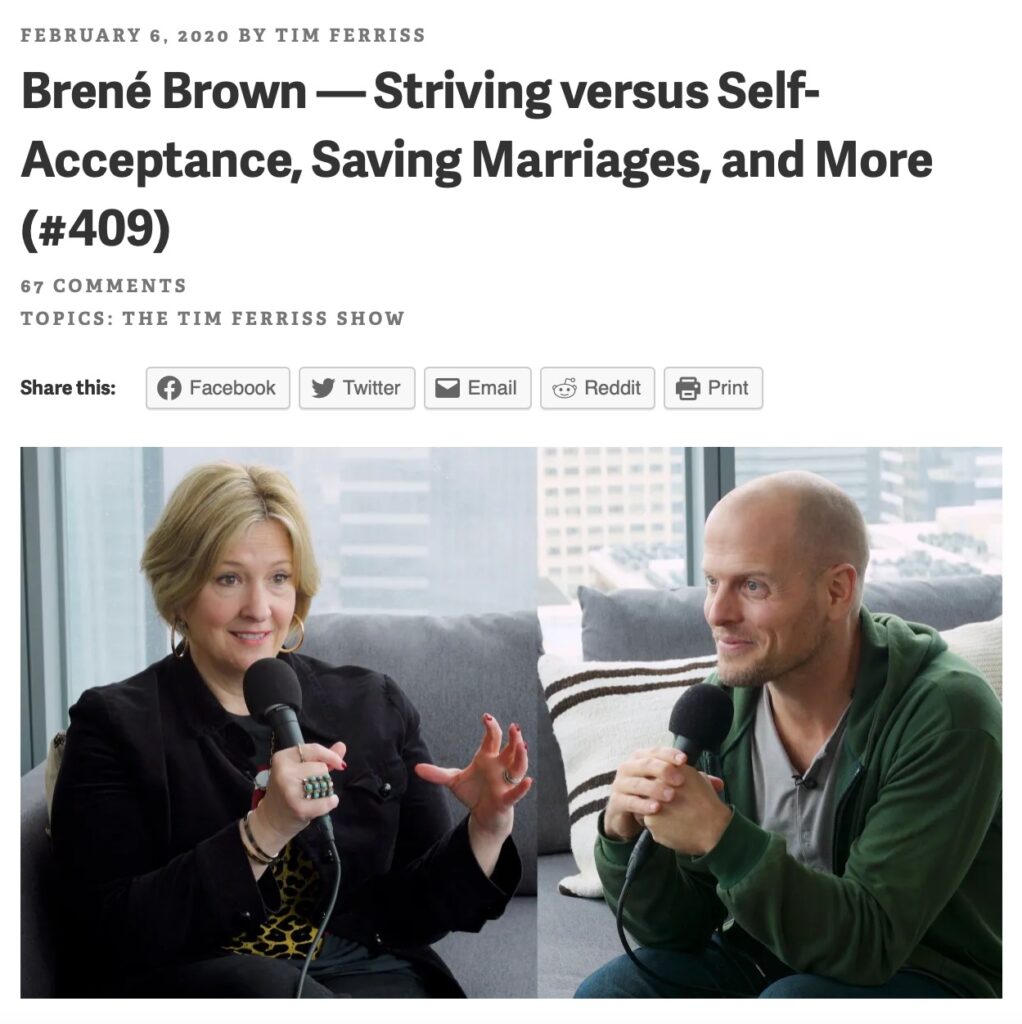 These themes are evident in Tim Ferriss's interview with Brené Brown on the Tim Ferriss Show. He uses a combination of formats, including a podcast, video, and transcript of the entire discussion to create a narrative around the topics of self-acceptance, self-awareness, and marital development.
Since Ferriss is well-known in the self-development space, speaking with someone like Brené Brown is excellent for producing compelling content and enhancing his credibility and authority on the subjects discussed.
Thought Leadership Marketing
Now that we've covered what thought leadership is and the different forms it can take, let's look at some best practices for implementing it as a marketing strategy.
We've put together a list of essential factors to ensure your content connects with your audience and establishes your presence as an active thought leader in your industry.
You could have all the knowledge in the world, but if you don't have an audience to engage with, you won't get far.
Get more leads with less effort.
If you want a steady flow of targeted leads, we've got a proven process for driving organic traffic and converting it into qualified leads.
Know Your Audience and Continually Learn More About Them
Knowing who your audience is and understanding what motivates them is essential when creating thought leadership content.
Start by putting yourself in their shoes and considering your buyer persona — a detailed description of someone who represents your target audience.
Think about this person's motivations, inspirations, and fears. What are they thinking about, looking for, and interested in?
Once you have these answers, you can craft your thought leadership content to address their needs.
Since customer psychology is constantly changing, it's important to check in and continuously reevaluate your buyer personas. Questions you should ask:
Are customer questions changing over time?
Are customer pain points the same today as when you first began as a company?
What can you do to stay updated with customer motivation?
Create Valuable Content for Your Audience
Thought leadership won't succeed if you're creating sub-par content.
This means showcasing your unique takes, intelligence, and expertise in your field in every piece of content you create.
All content you produce should be part of a broader, planned content marketing strategy to attract and convert your audience into customers and customers into repeat buyers.
The type of content you share is closely related to what you sell. In other words, you educate people so that they know, like, and trust you enough to do business with you.
Publish Content in a Variety of Platforms
While one of the most popular areas to publish thought leadership content is on your company's blog, you should be sharing your content where your audience is spending their time.
Social media, speaking at events, publishing video content on sites like YouTube, and getting featured on podcasts are all potential channels for sharing your content.
Written content is great, but not everyone consumes information this way. Since your audience likely absorbs content in several ways, it's essential to adapt your audience's preferences.
Analyze Your Competitors' Content
To stay ahead of the competition, it helps to know what your competitors are up to. If they're posting thought leadership content, it's a great opportunity to see what they're doing and analyze their processes.
Ask yourself the following questions:
What type of content are they publishing?
How frequently are they publishing?
Where are they publishing?
This enables you to understand your competitors' blind spots and see what they're missing. It's the perfect chance to create and publish content that no one else is.
Be Genuine in All You Do
This goes hand-in-hand with creating valuable content, but it's vital that the content you produce is genuine and unmistakably in your voice.
It shouldn't sound like you're pitching a sale or being overly promotional, but rather reflect your experience, insights, perspective, and developed opinions on the subject.
Does Thought Leadership Content Convert?
For a content marketing strategy to be effective, it has to produce a positive ROI.
Relying on thought leadership content isn't likely to produce immediate results, but over time it will attract a growing audience that looks to you for advice, expertise, and valuable insights.
Thought leadership content puts forth original insights and ideas and builds trust in you and your brand.
At Digital Commerce Partners, we pride ourselves on the partnerships we've made with thought leaders over the years and the content we've helped them create.
If you're ready to experience the power of strategic content marketing when creating thought leadership content, take the next step and contact us to see if we're a good fit.