A quality content development strategy is crucial to businesses looking to harness and optimize organic growth and drive traffic to their website. For this reason, it's one of the key services that we offer.
A content development strategy not only helps establish you as an authority in your field by providing valuable content to your audience, but it also enables you to create and foster an authentic and positive brand identity.
The content development process takes into account all steps of content creation – from planning and competitive research to writing, optimization, publishing, promotion, and performance tracking.
In this article, we outline our proven strategy for developing content. Then we demonstrate how we leverage this for our clients to help them achieve organic growth for their businesses.
What is Content Development?
Content development is not just about writing articles. It goes beyond this – or needs to – if you want to see noticeable results from your content marketing strategy.
When done well, content creates brand equity, meaning: your brand becomes more valuable over time as you continue to produce relevant content.
Well-crafted content provides value to your business through the organic traffic it drives to your website. You need a content development strategy to do this consistently.
Organic traffic is fundamentally different from other kinds of traffic for one critical reason — user intent.
Users are looking for solutions. They're actively searching for relevant information related to your service — that's how they discovered you in the first place.
The goal of content is to resonate with your ideal clients – at scale – and do it consistently enough to build trust.
This requires sharp focus, consistent execution, and a proven content development strategy — a system with a demonstrated track record of success.
Our Proven Content Development Strategy (and How to Implement it into Your Business)
We start by gaining an in-depth understanding of your customers and analyzing and assessing the competitive landscape.
We need to understand the unique factors surrounding your particular business. We do this by asking the following questions:
Who is your audience?
What resonates with them the most?
What does the buying process look like for your product or service?
Then, we design a uniquely customized strategy for your business.
Let's take a detailed look at the different steps in our process below:
Get more leads with less effort.
If you want a steady flow of targeted leads, we've got a proven process for driving organic traffic and converting it into qualified leads.
1. Gather Relevant Information About the Client
The first step in the content development process is gathering as much relevant information about the client or brand we're working with.
This is an important first step, as it enables us to really understand our clients, their products, and who their target audience is.
We develop an introductory roadmap consisting of a series of interviews and in-depth research reports using the most effective analytics tools available.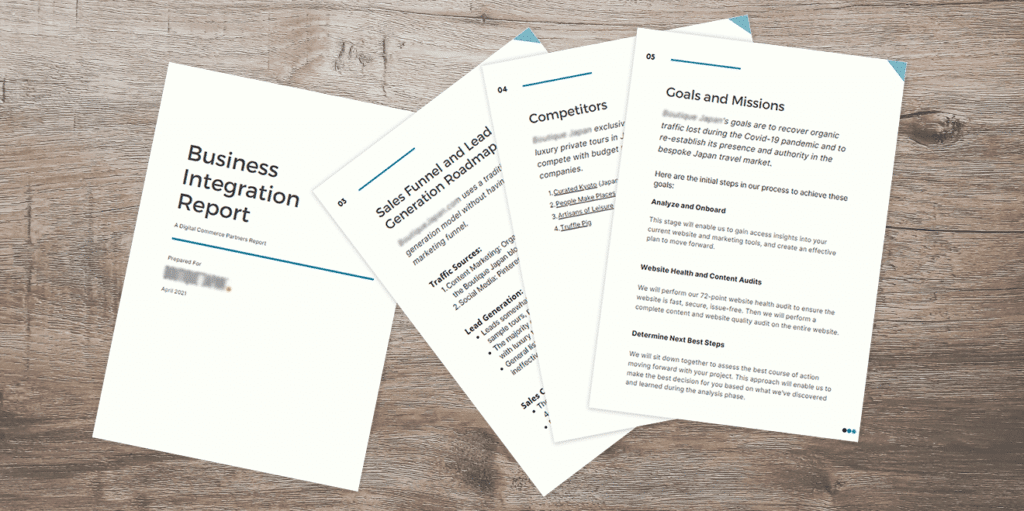 This enables us to lay the groundwork for the plan we develop and create an extremely detailed content strategy unique to our client, all before we've written a single word of content.
Some of the information that we gather includes:
The current health of the client's website, including backlink analysis and performance of current content
The client's preferred branding and tone of voice
The client's key competitors
The client's target audience and the demographics of that audience
The goals of the client's websites
The client's marketing goals and expectations
The more information we can gather at this stage, the easier it becomes to make effective, data-driven decisions about the type of content that will best serve their product, service, or business goals.
2. Research and Understand the Competition
It's impossible to put together a comprehensive content development strategy without understanding what a client's competitors are up to.
That's why competitor research is the next step in the content development process.
Our competitor research starts by identifying the most relevant competitors in our client's niche and compiling a list of the top keywords that they're ranking for.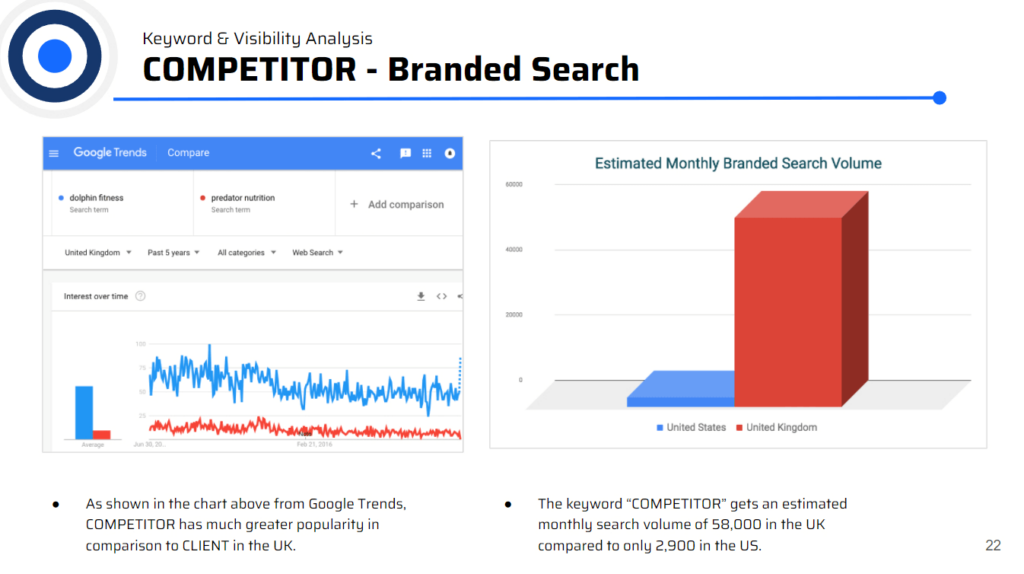 We do this to determine what useful keywords our client is already ranking for and to discover new, relevant keywords which we think they should be ranking for.
When examining competitor content, we try to determine:
High-quality keywords they're currently ranking for
Which of their pages are getting the most organic traffic
What topics they're covering
The type of pages they're ranking with
The different forms of content they produce
Once we have this information, we have a clearer picture of what type of content we have to create to compete with competitors for relevant keywords. It also provides valuable information about what kinds of content we need to produce to capitalize on new or under-explored keywords.
This leads to the next step in the content development process:
3. Content Strategy: Customer Journey, Editorial Calendar, Keywords
To effectively create a content development strategy requires us to understand the buyer's journey of our client's customer – their journey from discovery to purchase.
It's helpful to think of the customer journey in stages of awareness. Eugene Schwartz outlined these stages in his brilliant book Breakthrough Advertising:
Most Aware: Your prospect knows your product and only needs to know "how to buy."
Product-Aware: Your prospect knows what you sell, but isn't sure it's the right solution.
Solution-Aware: Your prospect knows the result they want, but isn't sure your product provides it.
Problem-Aware: Your prospect knows they have a problem, but doesn't know there's a solution.
Completely Unaware: The prospect has no knowledge of anything except, perhaps, their own identity or opinion.
One of the essential roles of content is to aid the customer journey by moving the prospect from one stage to the next.
Once we understand this, we can create content for each stage of awareness and move our prospect through the buyer journey.
The 6-Week Editorial Calendar
Each client requires a different, individual approach when it comes to producing and strategizing content.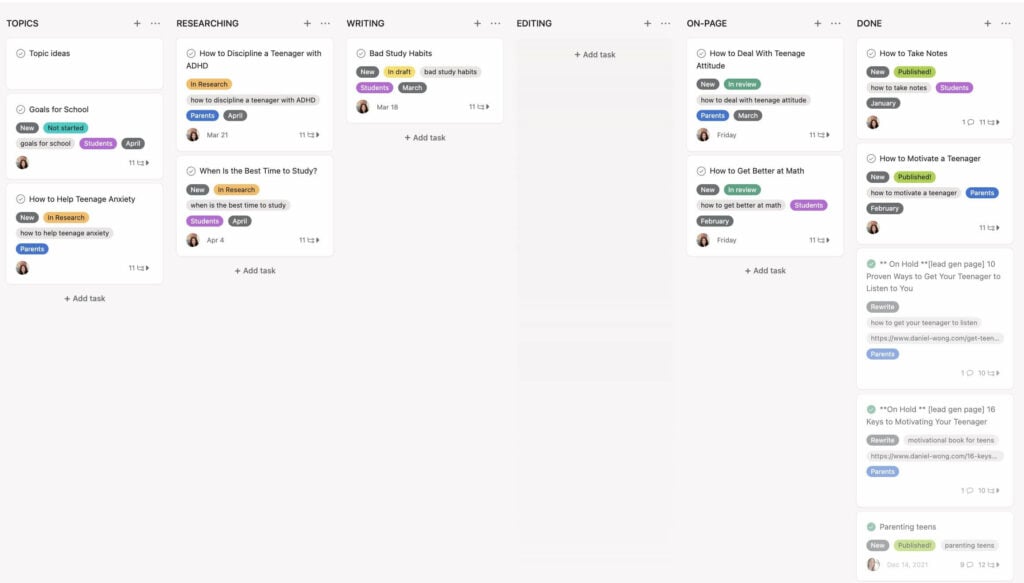 To facilitate this, we develop a comprehensive content strategy that outlines exactly what content we want to produce, the keywords we intend to use, and an editorial calendar that lets us know when we plan to publish.
We work with six-week editorial calendars for two reasons:
It's long enough to plan, create, and publish content consistently – and on schedule.
Yet short enough to analyze our results and adapt our next batch of content for maximum ROI for the client.
Keywords are Potential Customers
Don't get stuck on keywords and data, but also don't forget to start with them.
Keywords and search volumes aren't just numbers; they're real people looking for solutions to their problems.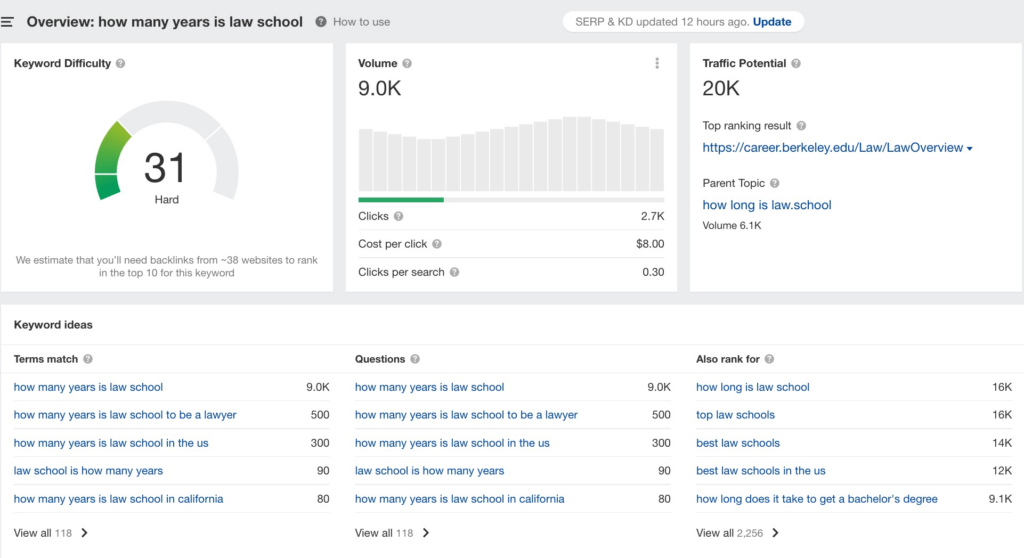 We always start with a list of high-value keywords compiled during the information gathering, competitor research, and goal-setting stages of the development process.
This list of keywords forms the backbone of the content we plan to create in the next stages of the content development plan.
Keywords help us achieve the client's goals.
---
How an Improved Content Strategy Tripled Revenue for These Online Course Creators
"You helped us zero in on the low hanging fruits, the keywords that would make a difference. Before then, we just wrote whatever came to mind."

Nathan Liao
Founder and CEO, CMA Exam Academy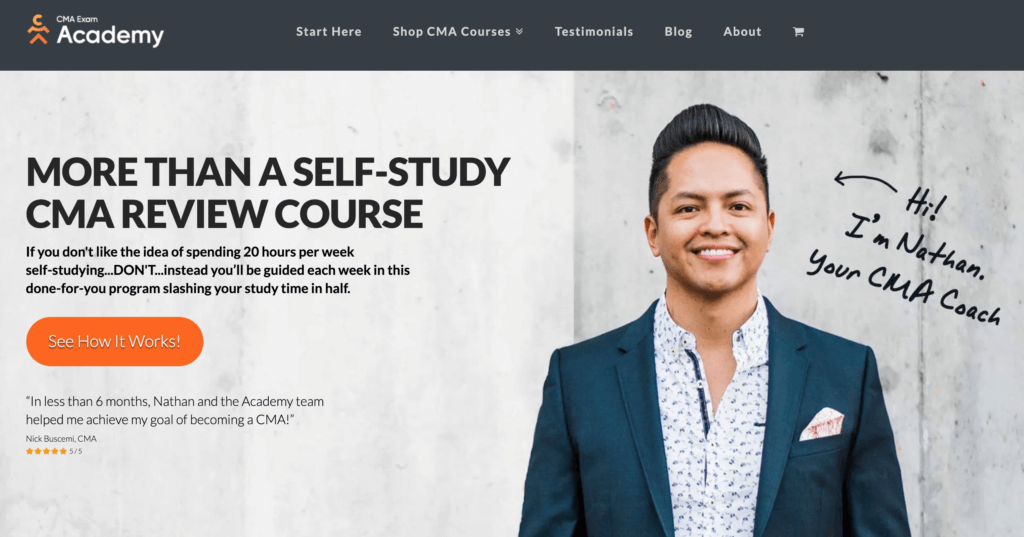 ---
We also factor in other metrics such as search volume and keyword difficulty, but these are measured against the value they provide in regard to achieving those goals.
In terms of keyword difficulty, we take into consideration the chances of ranking for that keyword, the strength of the client's site, as well as what keywords the competition is using, among other factors.
4. Your Success Metrics Defined: The Map to Achieve Them
At this point, we fully understand our clients' audience. We've created a content strategy for them, then based on our keyword research, we've mapped out their six-week editorial calendar.
Now it's time to begin creating the first piece of content – in this example, an article.
But first, we need a goal. We need to start with a clear definition of success and a plan to reach it.
This gives us something to aim for and ensures that we have measurable metrics to reference and study when determining the individual success of each piece of content.
Since all content must align with our overall marketing strategy, each piece of content we produce must progress toward one of the following goals:
Increasing email sign-ups
Lead generation
Making more sales
Improving brand awareness
Remember, in step three, we looked at the buyer journey and mapped out our editorial calendar to fit the different stages of this journey.
Now we assign individual goals for each piece of content based on its strengths, where it fits in relation to the five stages of buyer awareness, and the specifics of the target audience.
As a general rule, if the content doesn't contribute to one of the above goals, it's not valuable and needs to be reconsidered.
5. Outlining and Writing Content That Aligns With Search Intent
At this point in the content development process, we hand over all of the research we've conducted to our writers – we do this with a writer brief.
This brief provides the writer with a detailed outline of how the content should look and what keywords should be included, then tasks them with producing the best content possible.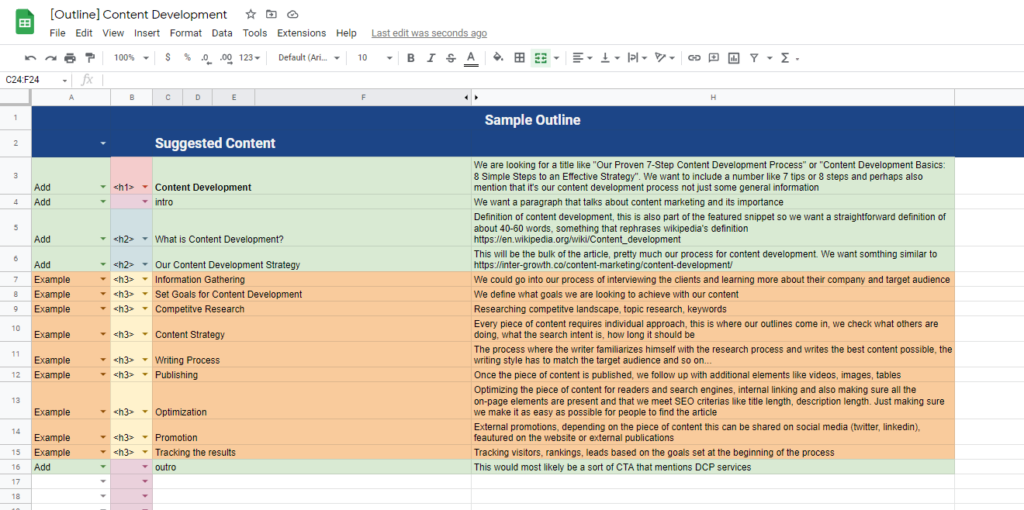 We prioritize ensuring that the content matches the search intent of the user. Search engines don't just favor content with the right keywords, they favor content that provides relevant answers and solutions to the users' queries.
For this reason, our writers always put themselves in the shoes of the reader and craft content that answers search queries in the most accurate and comprehensive way possible.
Search intent also guides the word count and format of the articles being produced, as well as the subsections, headings, and logical progression of the content.
From a technical standpoint, our writers ensure that each piece of written content is SEO optimized and easily readable with H1, H2, and H3 headings, bullet points, and numbered lists. They also maintain a consistent tone of voice throughout that reflects the brand of the client we're working with.
We will suggest some links to include, but let the writer decide which internal and external links are most relevant and authoritative for that specific content.
While a healthy backlink profile is important, especially in the long-form content that we produce, the priority during the writing process is on creating informative, valuable, and well-written content that the target audience will want to read.
Ideally, we try to create thought leadership content and creative content to position the client as an authority in their field and captivate and engage their audience.
Once a piece of content is written, it goes through a rigorous editing process to ensure that it's free of errors and meets our client's expectations.
6. On-Page SEO and Publishing
Once the content is written, edited, and formatted, we move to on-page SEO optimization.
Here we ensure that the content is completely optimized for both readers and search engines.
We want to increase readability, trim the word count, check that we're using the correct number of keywords in the right places, and ensure that the content is attractive to search engines.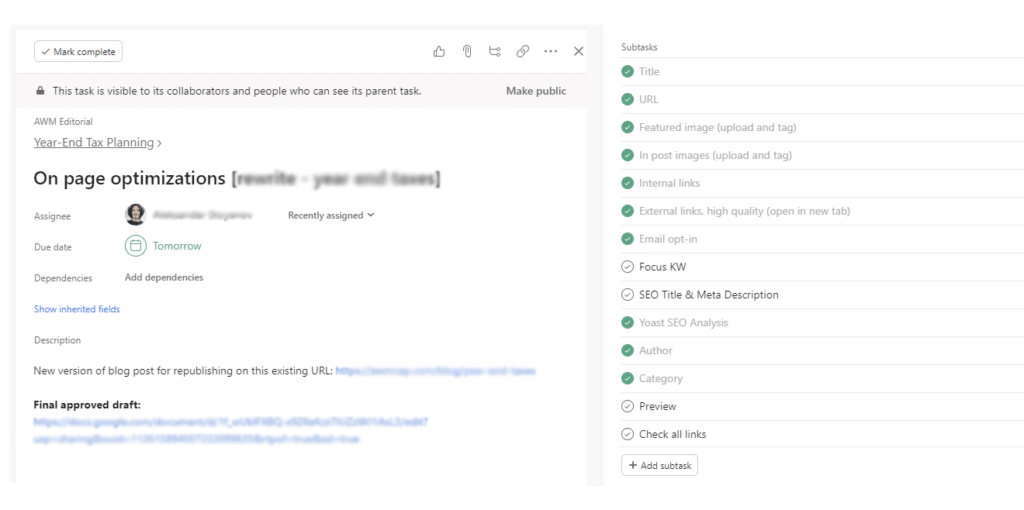 Some of the SEO criteria that we optimize for includes on-page elements such as:
Title length and copy
Description length
Internal linking
Image optimization
Title tags
Meta descriptions
Structured data
We follow this up with additional elements, including videos, images, and tables to enrich the quality of the content.
We might also include downloadable elements such as lead magnets, reports, and ebooks, depending on the product or service the content is serving.
Finally, we include a Call-to-Action (CTA) that will prompt the reader to respond to the content and help it achieve the goals we outlined in step four.
A CTA helps eliminate decision fatigue and gives readers direction about what step to take next.
"Buy now," "Register for this course," "Sign up for our newsletter," – these CTAs all direct the reader to take action, ultimately increasing conversions.
Once we establish that the content is the best it can be, it gets published.
7. Promoting Your Post
After publishing, it's time to promote the content on as many channels as possible to drum up interest and increase visibility.
There are several ways that content can be shared externally, but social media is one of the most effective.
Twitter, LinkedIn, Instagram, Facebook, and any other social media platform you can think of are great tools for exposing content to a large audience and increasing the chances of that content being shared.
Other ways we promote content include republishing platforms, email outreach, and getting it featured on different websites and external publications. This isn't simply to expose the content to more readers, but also to increase the number of backlinks to the content.
The more backlinks a piece of content has, the greater the signal to search engines that the content is valuable; therefore, the more likely it is to rank higher among search results.
It's worth noting that we never pay for backlinks, and neither should you.
While it's a frowned-upon way of increasing search visibility, it's also likely to be hit hard by search engine penalties, which will erase all of the hard work invested in getting the piece of content to this point.
8. Tracking and Analyzing Your Results
The content development process doesn't end once the content is out in the wild. After publication and promotion, we actively track the performance of the content to ensure that it's achieving its desired goals and generating results.
This process consists of two distinct but intersecting processes:
Auditing existing content and updating it as necessary
Analyzing and forecasting performance analytics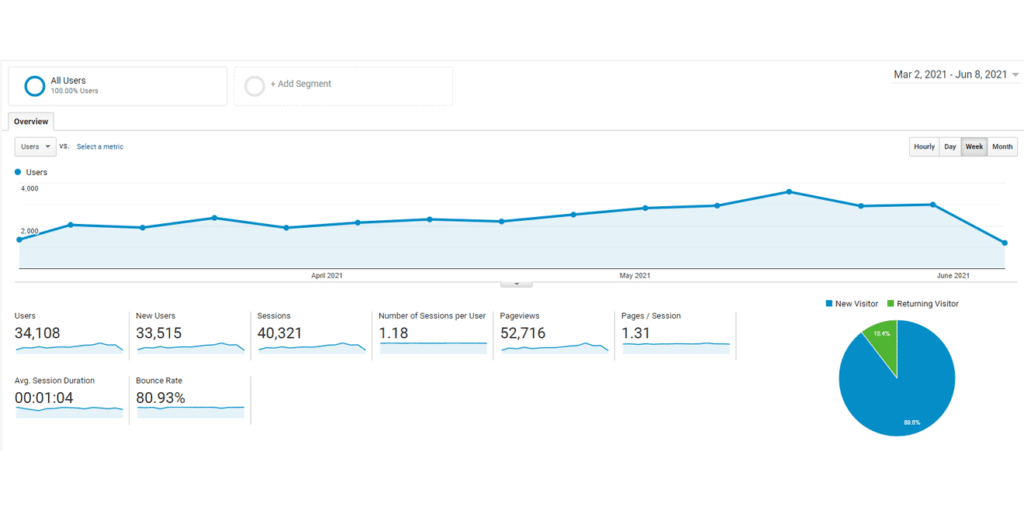 With advanced analytics tools like Google Search Console and Ahrefs, we track the performance of the content and make adjustments as needed.
These include:
Updating keywords
Responding to search engine updates
We also track internal and external publications to determine the most efficient and effective distribution channels and optimize accordingly.
9. Rinse And Repeat
This is the simplest step to explain, yet the most difficult to achieve. Hence why the vast majority of websites never receive any meaningful traction with organic traffic.
Content marketing is an ongoing process. You have to create and publish content consistently.
You need to do more than create a few pieces of content and wait for the results, you need to create great content, and you need to do it regularly.
This is why it's essential to develop a content strategy and then map out your six-week calendar – and then stick to it.
Create a Content Development Strategy That Achieves Business Goals
A successful content marketing strategy is dependent on a high-quality and thorough content development process. If the content market strategy is failing, it's likely because something was overlooked during development.
If you want to build a truly successful content marketing strategy, let us craft you a tailor-made content plan.
Get in touch with us today and discuss how to build a content strategy that will increase targeted traffic to grow your business.