The Top 5 Strategies for Higher Education Digital Marketing
How to reach the new generation of students.
As the pandemic continues to shake up the landscape of higher education, digital marketing is crucial for post-secondary institutions to stay competitive and attract potential students.
In 2020, there were over 4,300 colleges and universities in the U.S., as well as 6,560 trade and technical schools, so competition is fierce in the world of higher education. Digital marketing is an affordable, effective way to reach students and demonstrate why your institution is an excellent choice for them.
This article provides a proven framework for using digital marketing strategies to attract higher education students.
---
What is Digital Marketing for Higher Education?
Digital marketing uses channels like search engine optimization (SEO), videos, blog content, email marketing, and podcasting to promote your higher education institution.
"Traditional marketing is often a more expensive method of building awareness, and it's also harder to track – which is why higher education institutions are focusing their energy and attention on digital marketing."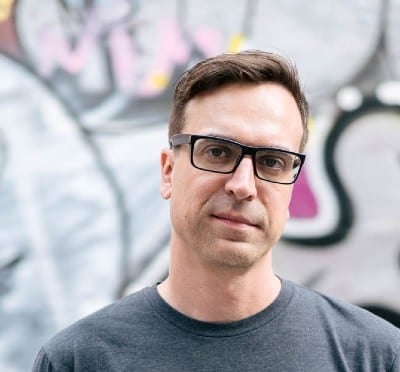 Jon Nastor
Managing Partner, DCP
---
Digital Marketing For Higher Education
The 5 Best Digital Marketing Strategies for Higher Education
Digital marketing is a great solution for higher education because it is:
Targeted
You can speak directly to the higher ed students you're trying to recruit.
Cost-effective
You can focus your marketing dollars on the marketing methods that consistently bring in leads and help you reach the right audience at the right time.
Inbound
Your prospective students can find and connect with you online when looking for higher education institutions.
Measurable
Your marketing team can set goals and track your higher education digital marketing campaigns by measuring email sign-ups, downloads, views, and form submissions.
Digital marketing methods can work individually – but you can also use them in conjunction to create an effective overall digital marketing strategy for your institution.
Digital marketing campaigns can help you:
Connect with potential students.
Provide leads with the right information at the right time.
Measure your marketing impact through the student's entire journey with your institution.
Here are the five most effective digital marketing strategies for higher education institutions:
---
1. Search Engine Optimization
Search engine optimization (SEO), the process of improving your website to increase its visibility in search engines, is the most effective digital marketing strategy for higher education.
Content marketing and search engine optimization strategies build upon each other. We are an SEO and content marketing agency, and when we work with clients to build a content plan, we always start with researching and identifying high-value keywords.
After all, the greatest content in the world won't help you attract higher education students if it's not reaching your target audience. Without SEO, you're missing a huge opportunity to connect with students when they're actively searching for a program, career path, or learning environment.
We believe in the power of SEO because we've been using search-friendly and targeted content to sell online education services, website hosting, software, and other products since 2006.
Now we also provide SEO and content marketing services to higher education institutions and other clients to help them consistently generate leads.
Some SEO professionals might lead you to believe search engine optimization is difficult and complicated – but it doesn't need to be. Most institutions can achieve a significant increase in organic search traffic with focused efforts and investment into three main components:
1. Website
Having a functional, search-friendly website includes site speed, technical SEO, and structure.
2. Content
Engaging and targeted content involves keyword-rich articles, search-optimized website pages, and internal links throughout the site.
3. Backlinks
Building incoming links to your site will improve your website's relevance and authority, boosting its presence in search results.
With smart SEO and content marketing strategies working in unison, you'll have an affordable, evergreen source of leads for your higher education institution.
For more information, connect with us to find out how we can help your organization get more leads through digital marketing.
---
2. Content Marketing
Situations vary, but content marketing for higher education generally means creating and distributing free, relevant content to attract prospects and convert those prospects into students.
The content you create might include things like:
Videos
Articles and blog posts
eBooks
Podcasts
White papers
Case studies
When you implement a smart content marketing strategy, your content will drive organic traffic to your site. The visitors you attract will be actively looking for information on higher education institutions that suit their needs.
To succeed with higher education content marketing, you must publish valuable, engaging content consistently – not just every once in a while – and optimize your content for search engines using targeted keywords.
Institutions with successful digital marketing strategies use content to showcase their programs, faculty, and events. They publish content that helps students take action on their career goals or creative passions.
For example, The University of Chicago's Computer Science Department publishes a wide variety of blog posts and articles on the department's research areas, news, and events.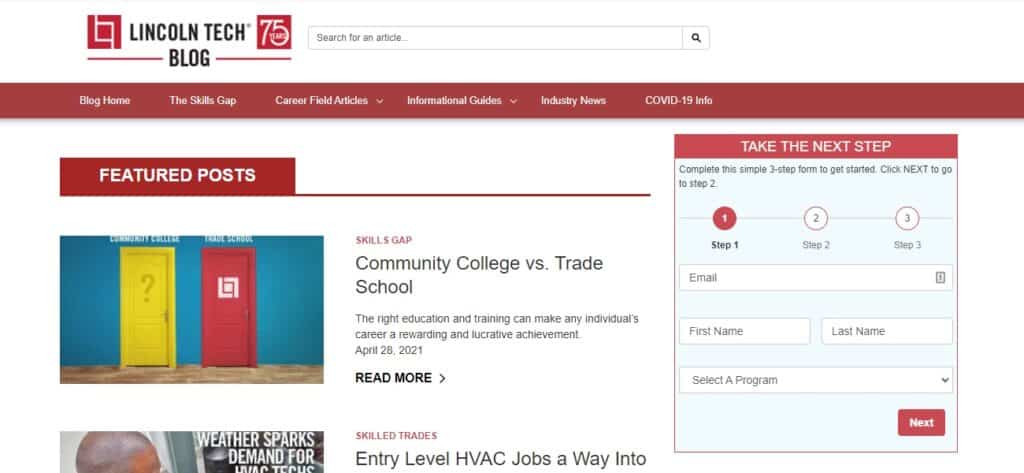 Lincoln Tech offers post-secondary programs in skilled trades, health sciences, information technology, hospitality, and automotive services. Its blog provides informational guides to help potential students make positive career moves and covers skilled trades that pay well.
Does your institution have a consistent content strategy?
If not, you can learn more about the framework we use for content development strategy with our clients, published on our blog.
---
Interested? Let's talk.
If you're ready to experience the power of strategic content marketing and a flood of targeted organic traffic, take the next step to see if we're a good fit.
---
3. Email Marketing
Email marketing can significantly boost higher education enrollment and help you engage with members of your community like parents, current students, and alumni.
We recommend capturing the email addresses of your website visitors by offering a lead magnet, then building relationships with new subscribers by using autoresponder campaigns and a regular newsletter.
Your lead magnet should provide a smart next step or quick win for prospects, like a virtual tour, a guide to financial aid or filling out the FAFSA, or tips on finding the right roommate or attending school as a non-traditional student.
The key to email marketing is providing consistent, valuable content for your subscribers. For example, if you're publishing a weekly newsletter, you can:
Create unique content specifically for the newsletter.
Curate valuable content from other brands, organizations, or people.
Summarize and link to content you've published in other places, like podcasts, videos, or blog posts.
Every higher education institution needs at least two email sequences:
1. Welcome Sequence
(2-5 emails)
Share a selection of your most valuable and relevant content to begin the process of getting your subscribers to know, like, and trust your institution.
2. Conversion Sequence
(3-15 emails)
Once your subscribers have received the entire welcome sequence, determine the most critical next step you'd like a prospective student to take. Would you like them to sign up for a campus tour? View FAQs about admissions? Whatever the next step is, make it the main point of this sequence.
---
4. Video Marketing and YouTube
Video is a versatile and accessible medium that helps convey your higher education institution's message in different ways, and it can be a critical part of your creative content plan.
You can easily measure the success of your higher education digital marketing campaigns by tracking social media likes and comments, video views, form submissions, and applications.
Video topics can include:
Virtual campus tours
FAQs
Events
Testimonials and success stories
Live Q&A sessions
Chats with current students, alumni, faculty members, or deans
For example, Front Range Community College offers virtual campus tours of both of its campuses via pre-recorded YouTube videos.
The University of Virginia published a video called How Affordable Is UVA? to help students navigate financial aid as they're figuring out how to pay for a UVA education.
---
5. Podcasting
In 2021, more than 41% of Americans listened to podcasts monthly – up from 26% in 2018.
You can use podcasting as part of your overall content marketing strategy for your higher education institution. In your episodes, you can communicate with current and prospective students, donors, alumni, faculty, and staff about topics related to your institution and your local community.
California Community Colleges publishes a podcast addressing academic and administrative topics, as well as issues facing two-year college educators and other stakeholders based in California.
At Boston University, students and staff collaborate on a number of podcasts on topics like Boston history, travel, and sports.
---
We Can Help You with Digital Marketing for Higher Education
If you want to build a successful digital marketing strategy that increases brand awareness and increases enrollments, talk to us about how we can create a customized SEO and content plan for your higher education institution.
Take the next step to find out how our team of specialists can create a customized content strategy that will consistently bring you more prospective students.