The 6 Best Digital Marketing Strategies for CPA Firms
Your path to scalable growth.
It's notoriously challenging to scale a service business, and even more so for CPA firms. But with the right digital marketing strategies in place, revenue growth will start to take care of itself.
Hinge, a branding and marketing agency for professional services companies, surveyed 1,250 firms worldwide and found that accounting firms are one of the slowest-growing types of service businesses. CPA firms grew at 9.3%, compared to 18% for software and technology and 11.2% for the legal sector.
But it doesn't have to be this way for you! Digital marketing will make your company more visible online, promote your services in bigger markets, and expand your client base much faster than local competitors.
In this article, we'll explain how to use six powerful digital marketing strategies to bring in more leads and customers for your CPA firm.
---
What is Digital Marketing for CPA Firms?
Digital marketing uses channels like search engines, online content, email, social media, podcasts, and paid advertising to generate awareness and connect with prospects who need accounting services.
If your firm is locally based, digital marketing (especially SEO) can help you find customers in your geographic area, or expand to a wider market.
If you're a virtual or fully-remote CPA firm, you've likely tried some forms of digital marketing already. Maybe you're frustrated after spending big on marketing strategies that didn't get results.
"We've learned those lessons, too, and now we help clients focus on cost-effective strategies that work to build a pipeline of leads and new revenue."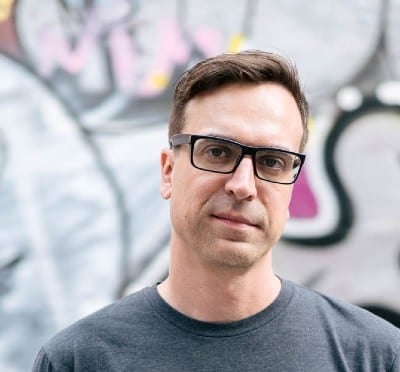 Jon Nastor
Managing Partner, DCP
---
Digital Marketing For CPA Firms
The Top 6 Digital Marketing Strategies for CPA Firms
Digital marketing is ideal for CPA firms for a number of reasons:
Targeted
Digital marketing lets you narrow your focus to attract potential clients based on factors such as industry, geography, and behavior patterns, so you connect with the right audience at the right time with the right message.
Inbound
Prospects who need your services will come to you when they're seeking a solution to their problems.
Cost-Effective
No matter the size of your business, you can spend your dollars in beneficial ways that help you reach your audience when they need advice.
Measurable
By tracking views, email message opens, sign-ups, downloads, and inquiries, you can get an accurate picture of what's working and what's not with your campaigns.
Each strategy for digital marketing works individually – but paired together, they're even more effective for drawing in potential clients and selling them on your services.
Here are the six top digital marketing strategies for getting more clients for your CPA firm:
---
1. Optimize Your CPA Firm's Website for Search Engines
Search engine optimization (SEO) is the process of improving your website to increase its visibility in search engines and drive more organic traffic to your pages and posts.
When a potential client is exploring options for a CPA firm, they'll typically turn to Google to start their search. So if you want people to find you when they need a CPA, you must ensure that your firm's website ranks in the top links of search engine results pages (SERPs) for relevant search terms.
We know how effective SEO is because we've been leveraging search-friendly online content to sell services and digital products since 2006. Now we provide SEO, content marketing, and email marketing services to CPA firms just like yours to help them bring in leads and convert prospects to loyal clients.
If you need a bit more convincing about the effectiveness of SEO, here are a few stats from SEO company Sistrix.
They analyzed billions of search engine results to understand how people interact with search engine results page and discovered that:
The first organic result on a SERP has an average click-through rate (CTR) of 28.5%.
The average CTR falls sharply in the second and third positions – 15% and 11%, respectively.
The CTR on the tenth link drops to 2.5%.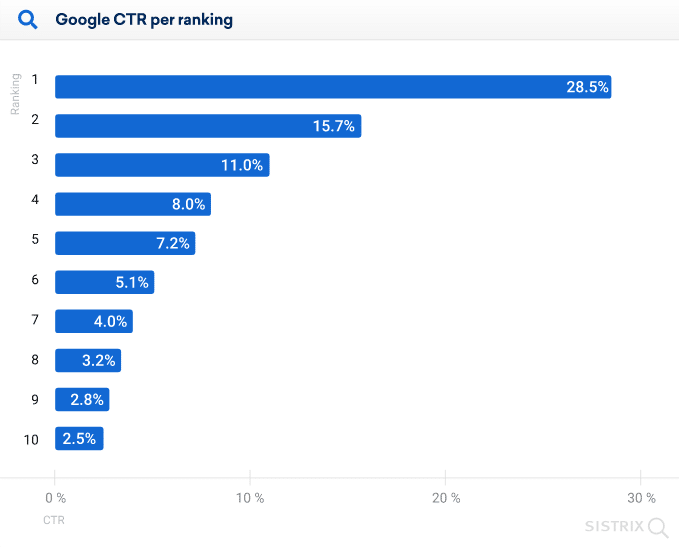 When we work with clients to optimize their sites for search, we put our efforts into three key SEO elements:
1. Website
Your website must load quickly and be free of 404 or technical errors. The site structure needs to be easy for search engines to crawl and index, but also easy to navigate by real users on all devices.
2. Content
Every blog post and page on your site should be formatted with search engines in mind, and have a specific intent. On-page optimization like meta descriptions, title tags, keyword-rich content, images, and internal links is essential.
3. Backlinks
When other sites link to your site, it improves relevance and authority. These incoming links, also called backlinks, give you a boost in search engine results.
Getting these three SEO elements right can bring prospective customers to your CPA firm's site with minimal ongoing effort, and no need to spend marketing dollars on traditional advertising.
Connect with us to find out how we can help you create a customized digital marketing strategy for your CPA firm.
---
2. Driving Traffic and Generating Leads with Content Marketing
Content marketing is the process of creating and sharing helpful content to attract prospects and convert those prospects into customers. By regularly publishing high-quality content, you'll educate your audience and build relationships so that people know, like, and trust you enough to do business with you.
When business owners are looking for CPA firms, they're looking for firms with established expertise – and content marketing makes your authority more visible. Your ideal clients may be looking for expertise in a specific industry, tax strategy, or financial structure, and content marketing is an ideal way to showcase your firm's specialized experience.
Content marketing can take many forms, including:
Videos
Articles or blog posts
Ebooks
Case studies
Podcasts
Before developing a content plan, research each of your target buyer personas. Then create content that addresses each buyer's pain points and their specific stage of awareness in their journey.
For example, you could create a short video to initially attract the attention of your CPA firm prospects. Then when your audience member gets closer to making a buying decision, you could send them links to thought leadership content that establishes your authority, or case studies that provide solid social proof.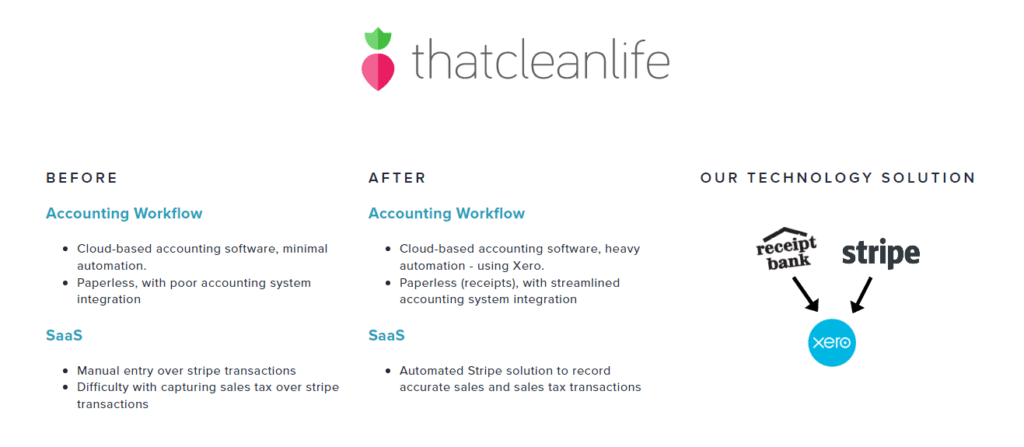 We share a step-by-step process for creating a content development strategy on our website – you can use this framework to craft consistent, targeted content that helps your prospects for your firm.
---
3. High-ROI Email Marketing
Email marketing is a type of digital marketing that allows you to have personal communication with your audience, directly through their inboxes.
With a 38:1 ROI, email marketing can significantly benefit CPA firms. The process involves an ongoing strategy to build an email list, then consistently sharing helpful content to develop relationships with potential clients.
We implement this marketing strategy with all our clients to help them build highly effective sales funnels. Using content and SEO to attract leads, we then nurture and convert those leads using automated email sequences.
Start building a list of email subscribers by adding a signup form to key pages of your website, and offering your visitors a lead magnet – a valuable piece of content – in exchange for their email address. For your lead magnet, consider giving away an ebook, a report, or a white paper that contains tips on business strategy, tax advice, finance, or any issue your firm helps clients solve.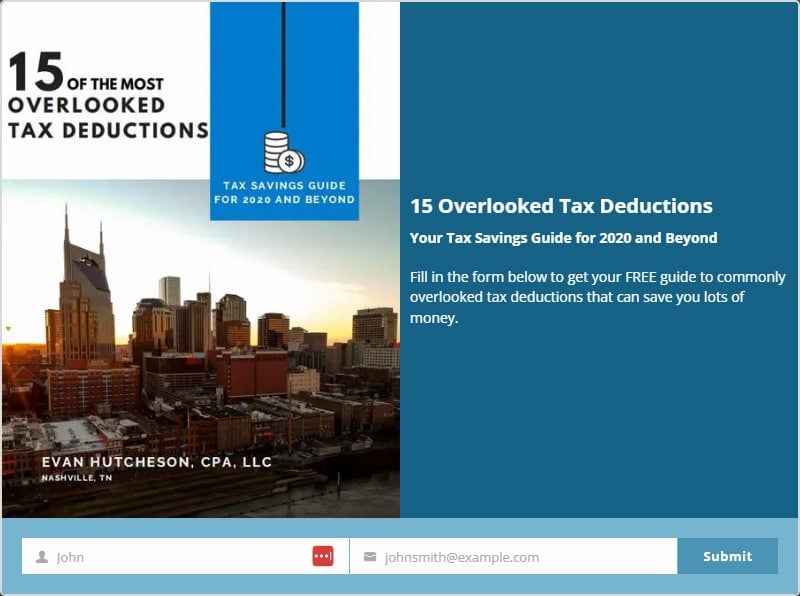 Once you've started building your email subscription list, you can create an automated email sequence that offers additional content and promotes your firm's services.
Every CPA firm needs at least two automated email sequences:
1. Welcome Sequence
(2-5 emails)
Share some of your best content, including articles, videos, or podcast episodes. The purpose of this sequence is to help your subscribers get to know your firm and recognize your expertise and authority in your field.
2. Conversion Sequence
(3-15 emails)
This is an initial offer and invites people to sign up for your services or connect with you for more information. Now that your subscribers have been primed with the valuable information you provided in your welcome sequence, they're well on their way to making a decision to work with your firm.
With your welcome sequence and conversion sequence in place, you can automate your entire sales process so new subscribers get messages from you every few days. As you build your list, you'll get more inquiries from subscribers interested in learning more about your services.
After new subscribers go through the initial sequences, continue to provide content to your list and regularly promote your products and services.
---
4. The Considerations of Pay-Per-Click (PPC) Advertising
When you search on Bing or Google, you've likely seen the ads displayed at the top of the search engine results page. Advertisers pay the search engines to run these ads on platforms such as Google Ads.
Every time someone clicks on one of these ads, the advertiser pays a fee, which is why this advertising model is known as "pay-per-click" or PPC. Social media companies like LinkedIn, Pinterest, and Facebook also offer PPC advertising.
While PPC advertising can be an effective way of generating leads – and the ability to locally target your ads can be helpful if you're only looking for clients in a selected geographic area – your leads will stop coming in as soon as you stop paying for ads.
You'll also find the cost of PPC ads in competitive markets like accounting can be quite high. It's important to crunch the numbers and track results, to ensure your ad spend is generating enough revenue to make it worthwhile.
Because of these limits, PPC is not the most cost-effective long-term digital marketing method.
On the other hand, the powerful combination of SEO, content marketing, and email marketing is an evergreen digital marketing strategy for CPA firms that continues to build momentum and pay dividends for many years.
---
Interested? Let's talk.
If you're ready to experience the power of strategic content marketing and a flood of targeted organic traffic, take the next step to see if we're a good fit.
---
5. Build Engagement and Visibility with Social Media Marketing
Social media marketing can also help you increase your firm's visibility and promote your services. Platforms like Twitter, TikTok, Facebook, Instagram, and Snapchat attract billions of users every month, many of whom log into their favorite platforms multiple times a day.
If you plan on marketing your firm using social media, first research your target audience's preferred platforms. There's no use spending time trying to build engagement on a social media platform if that's not where your prospects spend their time.
Once you've identified which social media sites you'd like to focus on, build your presence on those platforms by:
Offering a lead magnet to build your email list
Posting links to your blog posts, videos, and podcast episodes to drive traffic to your content
Asking for online reviews
Offering live Q&A sessions where you give financial advice or tax tips
Publishing case studies or customer testimonials
Providing an easy way for people to refer potential clients to your firm
Build your network by participating in groups
No matter how you plan on engaging with your audience on social media and building your online presence, consider how your social media marketing efforts will fit into your existing content marketing strategy.
For example, you can offer a piece of content like a blog post or a video if you want to build trust with your audience and develop a personal connection with your prospects. If you want to increase engagement, offering a webinar or an open "Ask Me Anything" session with one of your CPAs might be a better option.
Social media requires consistent hands-on effort, so plan on regularly publishing, engaging, and monitoring your progress.
---
6. Harness the Power of Podcasting
In 2021, 41% of Americans listened to a podcast at least once a month, up from 26% in 2018. With podcasts becoming increasingly popular, you may want to consider launching your own show. CPA firms can make podcasting part of their overall content marketing strategy and connect with prospects and customers.
CPA Brandon Hall runs a CPA firm that serves real estate business owners and investors. His podcast, Tax Smart Real Estate Investors, features interviews, Q&A sessions, and in-depth discussions about real estate tax topics.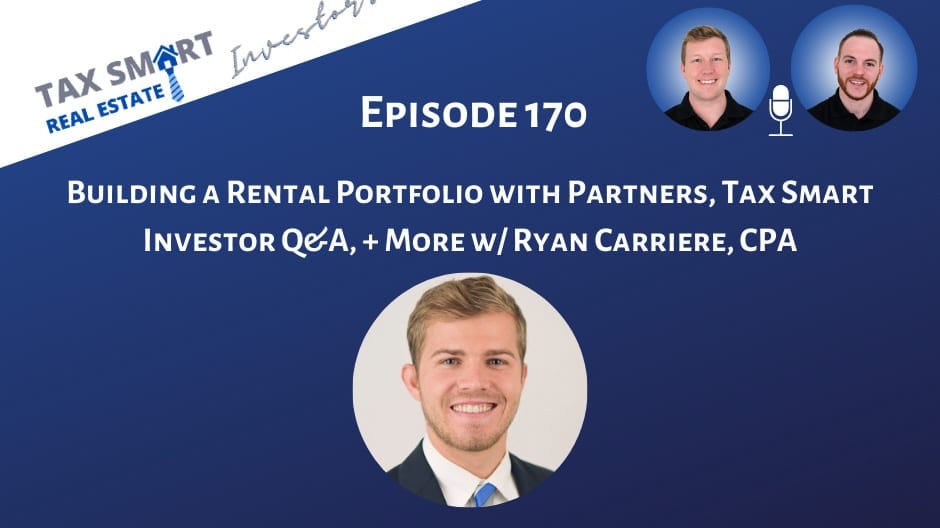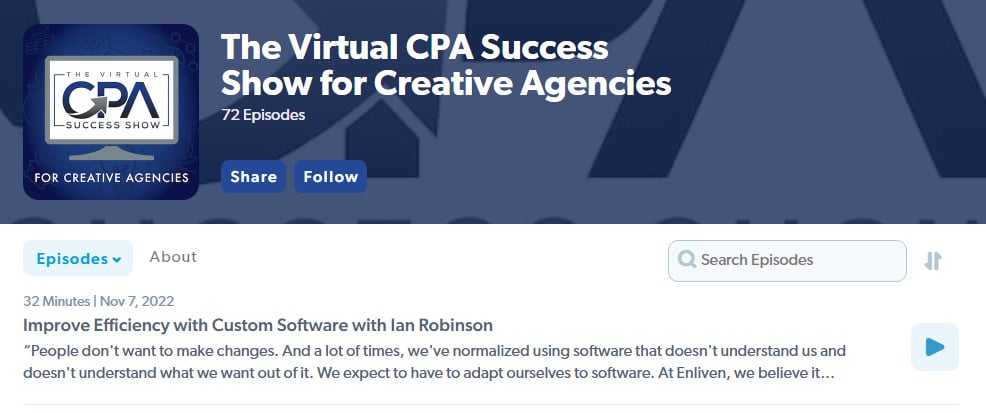 Summit CPA Group helps firms worldwide by providing virtual CFO, business tax planning, financial forecasting, 401(k) audits, and more. The company's podcast, The Virtual CPA Success Show for Creative Agencies, gives service-based business owners a deep dive into the financial side of their companies to help them attract clients and increase their bottom line.
---
The Secrets to Digital Marketing for CPA Firms
If you want to build a high-growth CPA firm, digital marketing is the key to standing out from the competition, building your brand, and growing your client base.
Using SEO, content marketing, and email marketing can help you realize your competitive advantage in a busy and crowded market. Whether you're looking for local clients, or you're a remote firm with no geographic limits, digital marketing should be a priority for your CPA firm.
Get in touch with us to find out how we can help you create a customized SEO and content plan for your company that attracts leads and grows your customer base.