Digital Marketing for Banks: 5 Tactics That Work
Your path to scalable growth.
Most banking customers begin their buying journey by comparing financial institutions online. So, before you blow the marketing budget on billboards and tv ads, take a deeper look at your digital marketing strategy.
90% of mortgage and loan consumers and 85% of check-cashing consumers will start with an online search. You're automatically out of the running if you don't show up in these online searches. 
But showing up in search doesn't directly translate to more customers. You need a holistic digital strategy to drive customer acquisition – with efforts aimed at gaining visibility, building authority, and helping customers find solutions.
Let's explore the five most powerful elements of an effective digital marketing strategy.
---
What Is Digital Marketing for Banks?
Digital marketing for banks is the process of using tools like search engines, online content, email marketing, and social media to increase brand awareness and connect with banking prospects.
It works best when you identify the right content for your prospects and run data-driven, measurable marketing campaigns.
With the right approach, you can be there for prospects at the right time, with the right offers.
"Active searchers are always better than passive viewers. It's your bank's job to create the right content and get it in front of your prospects when they're actively searching for solutions."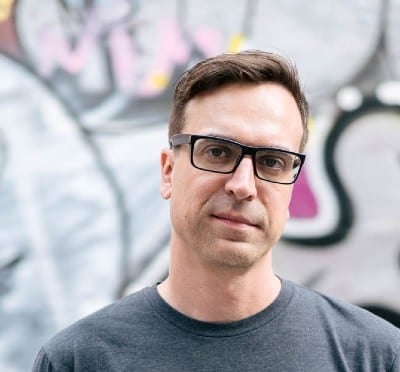 Jon Nastor
Managing Partner, DCP
---
Digital Marketing For Banks
5 Digital Marketing Strategies for Banks
Digital marketing is a great solution for banks because it is:
Targeted
You will engage directly with people who want to know about the benefits and advantages of your banking services. 
Cost-effective
You save money by only spending on the resources that help you reach your audience at the right time.
Inbound
Prospects will come to you for the answers to their financial questions or the information they need to make crucial decisions regarding their money. 
Measurable
You can see the success of your strategy by tracking sign-ups, downloads, and new clients.
Digital marketing – especially SEO – is essential if you want to win a bigger share of the business in your local area. And in virtual banking, with intense national and global competition for market share, it's even more critical to optimize your digital strategy.
Here's how the five most powerful elements of digital marketing work together in an effective strategy for your bank.
---
1. Search Engine Optimization: Maximize the Potential of Every Page
Search engine optimization (SEO) increases your bank's visibility in the search engines, driving organic traffic to your site. While most banks invest in maintaining a functional, attractive website, many lack a strategy to maximize traffic potential.
Without strategic SEO and content marketing, bank websites can unintentionally work against their performance in search engines. With every new product, promotion, and marketing initiative, pages get added without a plan for how they'll function in relation to the rest of the site.
When we work with banks to optimize for search, we focus on three key elements:
1. Website
(Technical SEO)
Your bank's website must load quickly, and be free of any technical or 404 errors. The site structure needs to be easy for search engines to index and crawl, and easy for customers to navigate.
2. Content
(On-page SEO)
Every blog post and page on your site should be optimized for its specific intent, whether it's to attract new visitors, serve existing customers, or move people toward a buying decision. 
3. Backlinks
(Off-page SEO)
Incoming links from other websites, also known as backlinks, give your bank's website an authority boost and can increase its ranking in search engines.
Content quality matters for every business, but the financial industry has unique requirements. In addition to the regulatory guidelines banks must follow, content has to meet Google's standards for determining whether content is valuable and should rank well.
For example, Google's search quality evaluators pay attention to the E-A-T of a page (Expertise, Authoritativeness, and Trustworthiness).
Here's how Google describes its E-A-T guidelines:
"High E-A-T news articles should be produced with journalistic professionalism – they should contain factually accurate content presented in a way that helps users achieve a better understanding of events. High E-A-T news sources typically have published established editorial policies and robust review processes."
Google also categorizes some content as "Your Money or Your Life" (YMYL). This type of high-stakes content, if presented deceptively or inaccurately, could directly impact a reader's health, safety, financial stability, or happiness.
In other words, if you create a piece of YMYL content that contains bad or misleading advice, it could directly affect people's lives and livelihoods. Google takes YMYL content very seriously, and your bank should rely on experts to create these pages and posts.
With an effective SEO strategy, your bank's website will rank higher in Google's search engine results pages (SERPs), attracting more organic traffic and leads. 
Connect with us to find out how we can help you create a customized digital marketing strategy for your bank.
---
2. Content Marketing: Build Trust With Your Audience
Content marketing – delivering useful, relevant content to prospects to help them solve specific problems – enables you to build relationships with website visitors so they know, like, and trust you enough to bank with you.
For example, the Bank of Colorado has a resource center that features tips on paying bills and taxes, planning for retirement, staying safe from cybercrime, and other financial topics.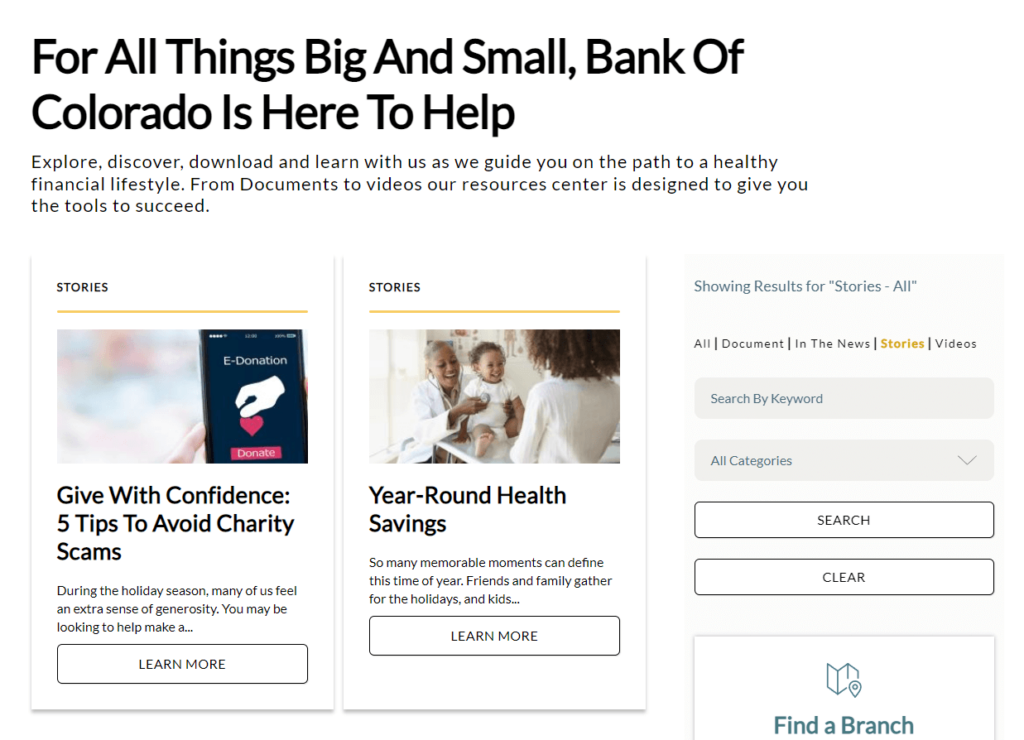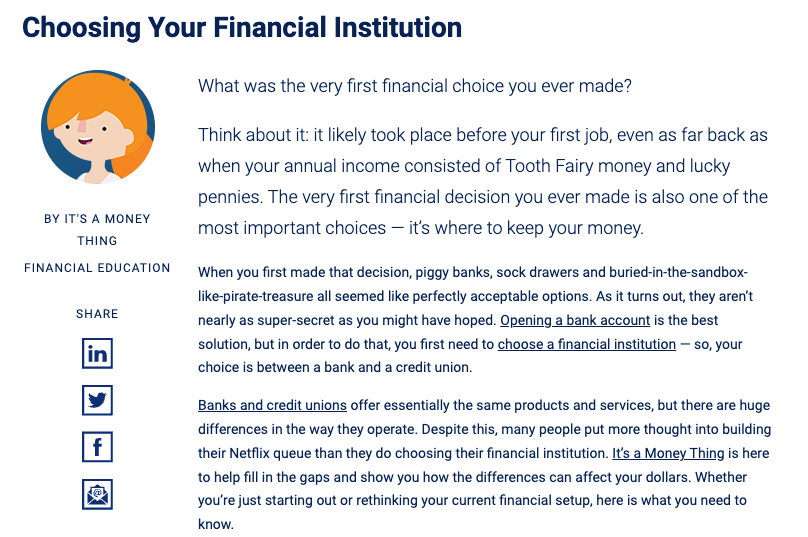 The Randolph-Brooks Federal Credit Union publishes articles on its site on topics like "Choosing Your Financial Institution." This article also includes a downloadable, printable PDF checklist that sums up the main points of the article.
Content marketing makes your bank more visible, increases website traffic, cements your expertise with the public, and generates leads. Your bank might consider publishing content such as:
Articles or blog posts
Ebooks
Videos
White papers
Podcasts
Checklists
Infographics
Before creating your content strategy and editorial calendar, research your target audience's pain points, so you can craft content that meets their needs at each step in the customer journey.
Looking for a step-by-step framework for creating a content development strategy for your bank? Check out the process we use to help our clients generate more leads and sales with content marketing.
---
3. Email Marketing: Engage Prospects With Targeted Communication
With a staggering 38:1 ROI, email marketing can significantly benefit banks that build a loyal subscriber base and publish consistently helpful content.
We use email marketing strategies to help banks:
Deliver highly targeted emails to prospects and customers
Personalize customer experiences and offers based on customer preferences and interaction data
Automate the sales cycle
Educate and onboard new customers
Nurture prospects by keeping up consistent communication
To make email marketing work for your bank, consider adding an offer or newsletter sign-up to your content.
For example, Capital One's blog post about rent-to-own homes prompts visitors to check for pre-approved credit card offers as a potential next step. Visitors need to enter their email addresses to get the offers.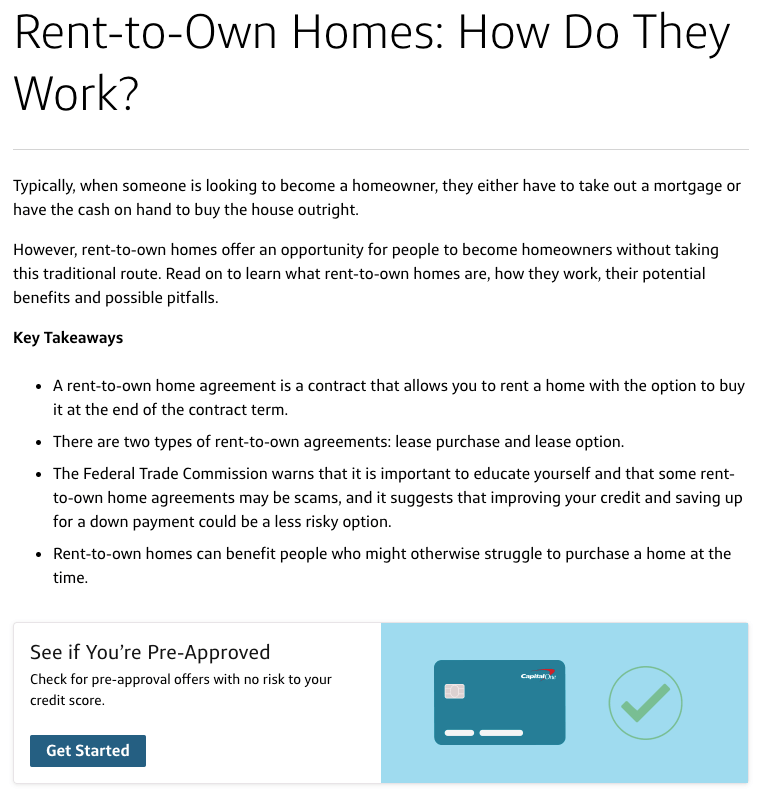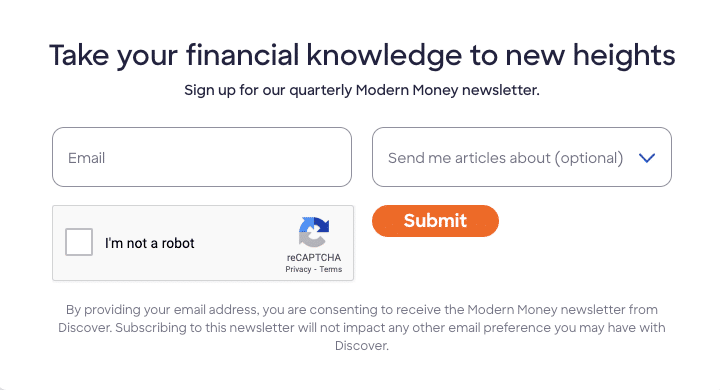 Discover's Modern Money blog posts include an opt-in form prompting readers to continue expanding their financial knowledge by signing up for a newsletter.
To follow up with new prospects after they sign up for your offer or newsletter, create at least two automated email sequences:
1. Welcome Sequence
(2-5 emails)
The welcome sequence showcases a collection of your best content. This builds trust with your audience, so they start to know, like, and trust you enough to switch their current bank to yours
2. Conversion Sequence
(3-15 emails)
The conversion sequence presents a direct offer. The goal of this sequence is to get people to connect with you for a conversation or to engage directly from the messages. 
With your content and your opt-in offers driving leads to your list, and your email sequences in place, you can automate your sales process and fill your pipeline with consistent leads who are interested in your banking services.
Of course, the banking industry is heavily regulated, and there are compliance issues to consider — but email marketing is still a valuable strategy for banks, especially in conjunction with SEO and content marketing.
---
4. Pay-Per-Click Advertising: Weigh the Pros and Cons
Pay-per-click advertising, also known as "paid search," is highly competitive for banks and financial products. Bidding gets more competitive (and therefore expensive) for specific products and services.
On the other hand, paid search is fast-acting and measurable – so it's immediately apparent when the cost per lead is too high.
A quick primer on how it works: When you enter search terms into Google, ads appear at the top of the search engine results page, above the organic links.
Advertisers pay search engines to run these ads on platforms like Google Ads, using a "pay-per-click" (PPC) model that charges a fee for each click.
Social media companies like Facebook, Pinterest, and LinkedIn also offer pay-per-click advertising.
Paid advertising is one way of generating "easy" but potentially expensive leads, only as long as you're buying ads. It's a short-term strategy that stops yielding returns as soon as you end your campaigns.
On the other hand, an evergreen SEO and content marketing strategy can bring in consistent, organic leads for years to come – especially as you continue to refresh your content and build momentum with digital marketing.
---
Interested? Let's talk.
If you're ready to experience the power of strategic content marketing and a flood of targeted organic traffic, take the next step to see if we're a good fit.
---
5. Social Media Marketing: Join the Online Conversation
Social media platforms like Twitter, Facebook, TikTok, Snapchat, and Instagram attract billions of users every month. Take your strategy beyond advertising on these platforms to offer real value to potential customers.
If you want to use social media marketing, research compliance rules for posting, and find out where your customers spend their time online.
Once you've selected the platforms you'd like to use, build your presence by joining the online conversation. Plan on posting content consistently, and make your posts as interactive as possible by encouraging comments, tagging, sharing, and liking.
Here are a few actions you can take to help build your social media presence:
Offering Q&A sessions on financial topics
Publishing case studies or online reviews
Offering a resource to social media followers to join your email list
Celebrating your team by sharing milestones, anniversaries, achievements, and new hires
Sharing local content about businesses and events in your community
Driving traffic to your site by sharing your blog posts, videos, or podcast episodes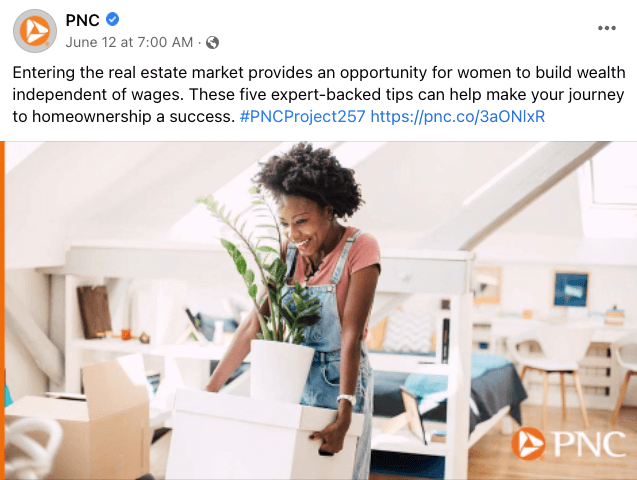 The appeal of social media marketing for banks is strong, but keep in mind that organic social media engagement is unlikely to be your highest-performing digital channel. 
For example, Hootsuite reports that only 6% of your Facebook followers will see your organic posts, and the average Facebook page sees just 0.07% engagement.
Still, it's a helpful tool to complement your other content marketing efforts.
---
Need Help Creating Your Bank's Digital Marketing Strategy?
Banks are facing big challenges in today's dynamic and competitive landscape, but a well-executed digital marketing strategy shouldn't be one of them.
Take the next step to learn how we can help you create a customized digital marketing plan for your bank that includes SEO, content that connects, and a personalized email marketing strategy.