The line between SEO and content marketing is blurry. They're clearly different, but where one stops and the other begins isn't easy to pinpoint.
Think about it like this: The differences between night and day are like, well, night and day.
But what about that specific moment when day ends and night begins – when is that?
You may be thinking it happens at sunset. But that ignores civil twilight, the period when enough natural light remains, and artificial light isn't needed. This is the blurred line.
This seemingly simple question has been debated for thousands of years. And as much as I'll strive to show you the differences between SEO and content marketing, there will always be other perspectives.
But just like day and night – you can't have one without the other. So goes the relationship between SEO and content marketing.
Enough circular talk. Let's start with definitions.
What Is SEO?
SEO (search engine optimization) starts from an understanding of how search engines work and then optimizing your site for performance within those parameters. This optimization is a combination of technical work and content.
SEO is not about gaming the system or tricking Google into ranking you higher in their search results. Google tells us specifically what they're looking for – in their publicly accessible search quality evaluation guidelines – and it's our job to work within those guidelines.
But it can't work by itself – SEO needs content to help match specific search queries utilizing keywords.
What Is Content Marketing?
Content marketing is creating and sharing informative content that is relevant, interesting, and useful to your target audience. When done right, content marketing drives targeted, organic traffic to your business.
With SEO and content marketing, you can get your content in front of the right audience at the right time – whether they're solving a problem or looking to buy.
The Differences Between SEO and Content Marketing Are Like Night and Day
Remember, moving between night and day isn't easy to explain. But there are clear differences between the two. So rather than continuing on this philosophical path, let's pin down the differences.
The most significant difference is that SEO is a specialty most business owners don't feel qualified in – so they don't do it. Most businesses "do" content marketing – whether they know how to do it correctly or not.
Anyone who's ever published an article on their blog has done some form of content marketing. But without considering SEO for their blog, they will not gain much, if any, benefit from publishing that article.
Perceptions vs. Reality
"SEO is often perceived as data nerds geeking out over minuscule technical issues that most business owners neither understand nor care about. "
This is true to a certain extent, but is negated with the addition of content marketing.
"Content marketing is seen as the creation of piles of articles, emails, and reports – often without any plan for getting them in front of customers."
Also very true, but only until we begin to optimize our content for search engines.
When we merge SEO with content marketing, we leverage our ability to share our expertise and reach customers when they need our help the most.
Get more leads with less effort.
If you want a steady flow of targeted leads, we've got a proven process for driving organic traffic and converting it into qualified leads.
The Simple Way to Merge SEO with Content Marketing (With No Special Software)
I've seen sites with thousands of articles published on their blog – getting only a trickle of traffic. That's a mountain of content, and more often than not, it was created with no real strategy in mind – other than "more is better."
I've also seen sites with less than 30 articles published that drive millions in sales. Typically these site owners "get" their customer's journey from problem to solution to conversion. In short, they understand how content marketing works.
This is the difference between creating more content and creating better content – strategic content that drives sales.
So how do you pull this off?
This is by no means an exhaustive process for writing articles. But following these three simple steps will put you on the right path to being rewarded for your content marketing efforts.
1. What Will You Write About? Go One Step Further
I know, I know. You're thinking, "Of course, I need to know what I'll write about!"
Just hear me out. This simple step will drastically improve your results.
Let's say you own a garden store, and you've decided to write an article about indoor gardening.
Great topic. The problem is that it's too general – which means it will be harder to rank for. You can put days or weeks of work into that indoor gardening guide, but if it doesn't rank, nobody will see it.
So let's find something better. And by better, I mean more specific.
Head over to Google and search for your topic. Then scroll down to the bottom of the page to "Related Searches." The topics listed here are ones Google knows are of interest to anyone searching for "indoor gardening."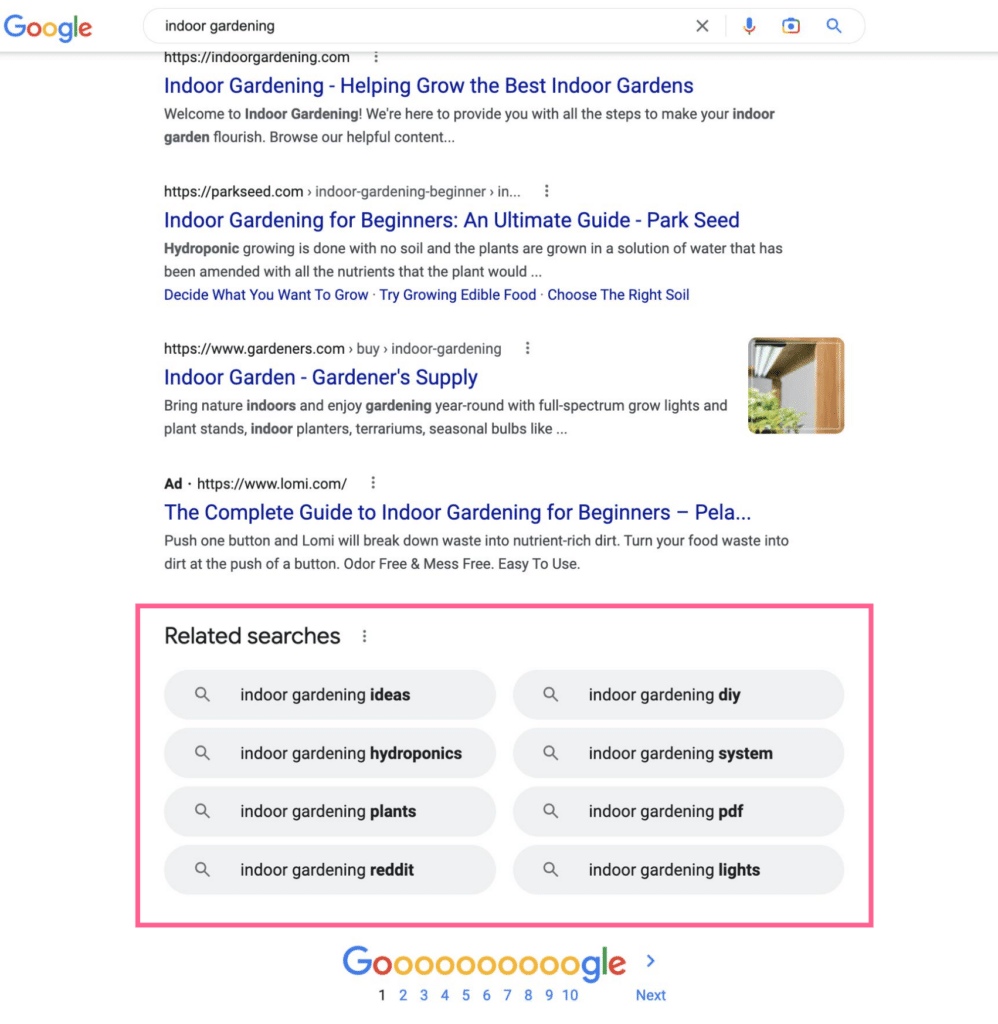 What we're looking for is one specific topic that you can write about. From the list above, I'd recommend starting with "indoor gardening ideas."
Once you've picked a topic, move on to the next step.
2. Don't Guess: Write What's Needed
Search intent is an SEO term for understanding what the purpose of an online search is – what's the intent of the person doing the searching?
It's the reason someone conducts a specific search. Your job as a content marketer is to understand why your reader is looking for help, then provide solutions to their problems – and ensure the type of content you create does this.
You can find out more about the search intent behind the queries you're exploring by typing your keywords or topics into Google and examining all the results on the first page.
What type of page are people hoping to find when they type your keyword into Google?
For example, are they looking for a product, a helpful guide, or a list of resources?
If we go back to our indoor gardening ideas example, you'll see that the top three results are all list posts.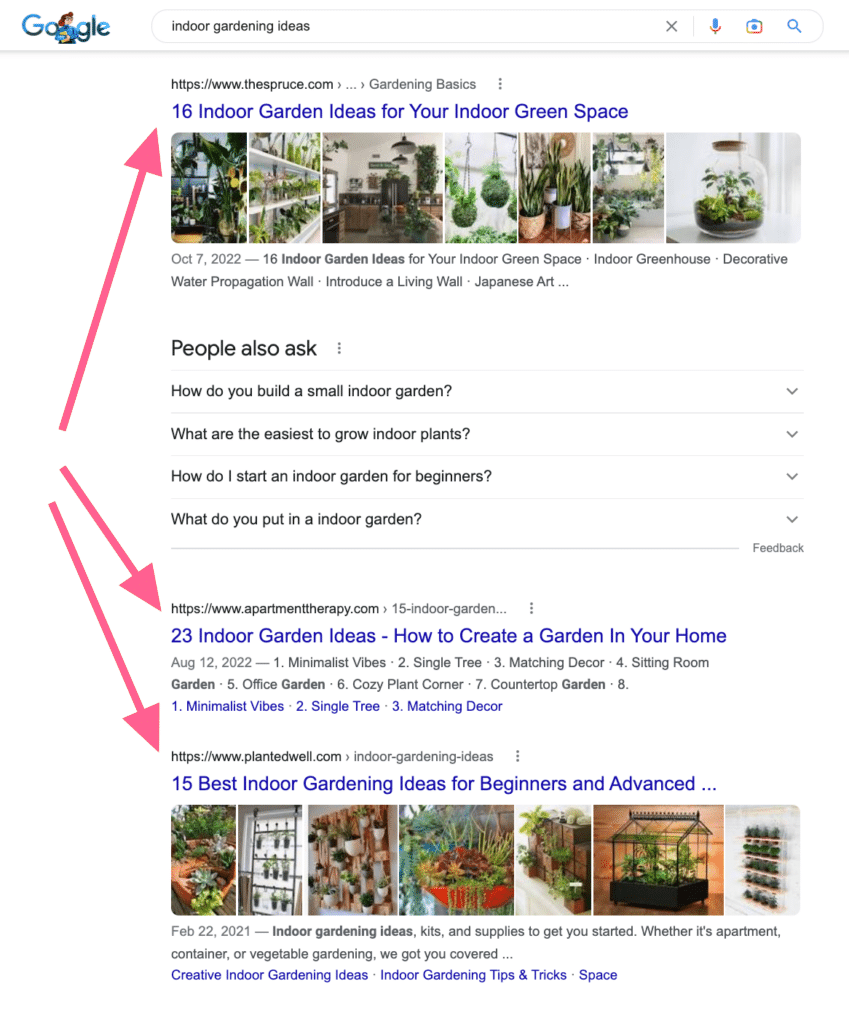 At this stage, people are looking for a long list of ideas to get them started on solving their indoor gardening problems. These posts aren't deep dives into a specific type of indoor garden – those articles and searches come later.
Google already knows the search intent for your keyword, using data from the billions of daily searches happening, and it promotes the best matches to the first page of results.
Use what you've learned to match search intent – in this case, a brainstorming list of ideas – with your content and produce exactly what people are looking for. No guessing involved.
3. Answer Questions Your Audience Is Asking
In a perfect world, you'd create a full article brief and outline before sitting down to write. But I don't expect you to do that.
What I do expect, though, is for you to spend five minutes of your time finding 3-5 questions that people are actually asking. Then answer them in your article.
Again, this is easy. Go back to your search results. This time, we're looking at the "People Also Ask" section. These are real questions people are typing into Google about your topic.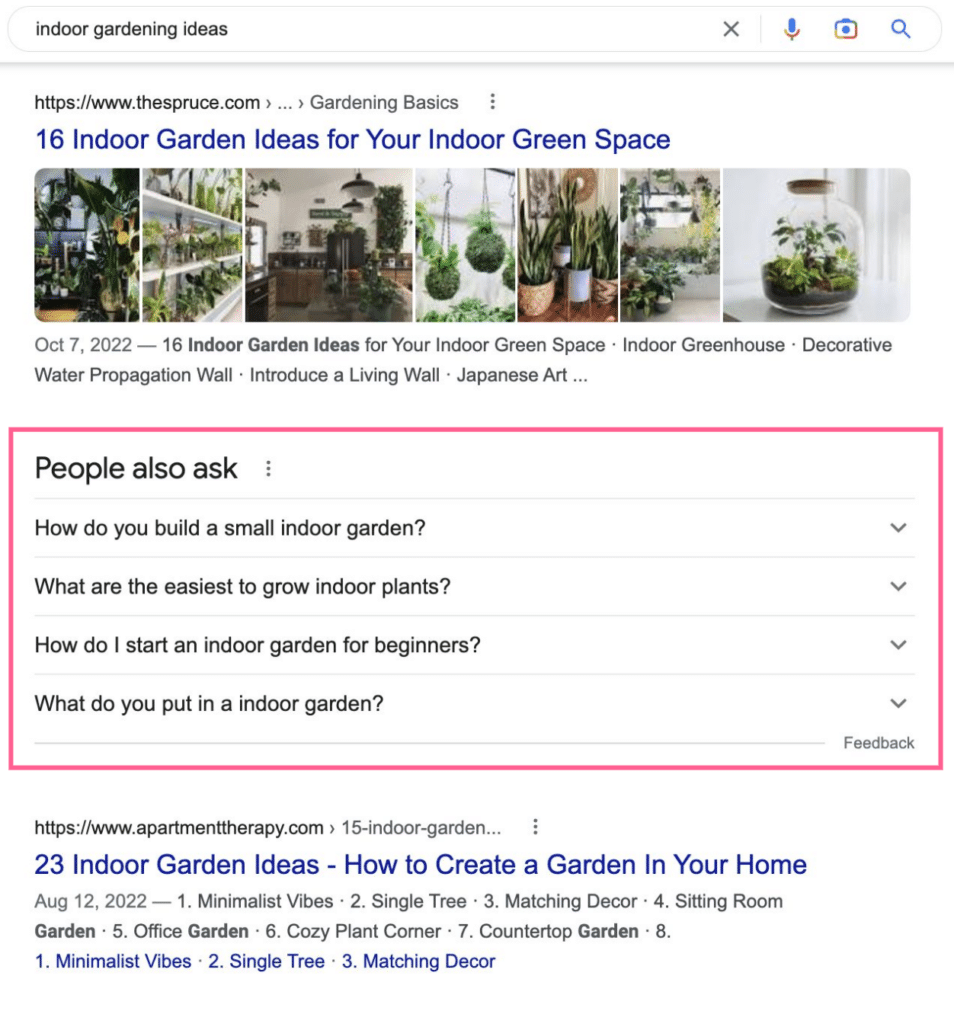 Looking at the image above, you'd want to make sure to add a couple of those questions to your article. And you're not just doing this for SEO purposes, but also because these are actual questions many people are trying to find the answers to.
Once you have your questions, sprinkle them throughout your article with this simple format:
The question formatted as a subheading
Your answer below
Here's an example:

As I said earlier, this is by no means an exhaustive process for writing and editing articles, but it's an accessible way to start merging your content marketing efforts with SEO. This will, in turn, help you get more readers and sell more.
Remember: Quality and accuracy are critical. All the SEO in the world won't salvage poorly-written, inconsistent, or incorrect content.
Our Framework for SEO-Driven Content Marketing
When done right, SEO and content marketing will consistently attract qualified leads to your website, so you don't have to spend time and money searching for customers.
We know SEO and content marketing work beautifully together, because we've been using these strategies since 2006.
Digital Commerce Partners is the SEO and content marketing agency from Copyblogger – yep, that's the site that VentureBeat called "the bible of content marketing" – and we practice what we preach.
As a company, we've bootstrapped an eight-figure software company, sold website hosting, certified nearly a thousand content writers, and numerous affiliate marketing ventures.
We continue to build profitable digital commerce products and businesses for ourselves and those we work with.
For us, providing content marketing and SEO to clients was the last step, not the first.
We're Not Right for Everyone – But We May Be Right for You
A smart, consistent SEO and content marketing strategy will attract visitors to your website and help you convert more of those visitors into loyal customers who buy from you again and again.
If you're ready to create search-friendly content that brings in a steady stream of targeted organic traffic, take the next step to see if we're a good fit.