The Top 5 Digital Marketing Strategies for Universities
How to reach the new generation of students.
Universities need to stand out from competitors to attract the best and brightest students, and digital marketing is the most effective way to set your institution apart.
With almost 4,000 universities and colleges in the U.S. alone, students have a lot of options. That's why it's crucial that you connect with potential students online so you can generate more inquiries, applications, on-campus visits, and enrollments.
In this article, we'll give you a proven framework for using digital marketing to spread the word about your university, then show you how we leverage this process to help universities attract more students.
---
What Is Digital Marketing for Universities?
Digital marketing uses channels like search engine optimization (SEO), email marketing, blog content, and podcasting to promote your university.
Digital marketing campaigns can help you connect with prospective students, convey your messaging, and measure your marketing impact through the student's entire journey with your university.
"Students today are digital natives, making offline marketing methods like print advertising and direct mail less and less effective for educational institutions."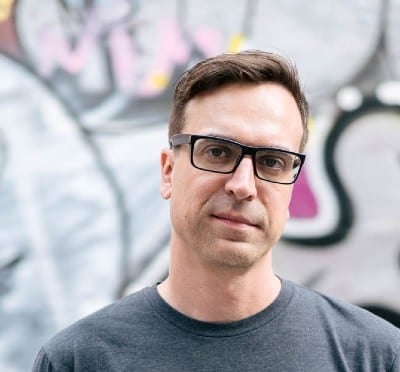 Jon Nastor
Managing Partner, DCP
---
Digital Marketing For Universities
The 5 Best Digital Marketing Strategies for Universities
Digital marketing is ideal for universities because it is:
Cost-Effective
You can focus your marketing dollars on the methods and resources that help you reach the right audience at the right time.
Inbound
Prospective students can find and connect with you online when looking for universities that can help them achieve their educational and career goals.
Targeted
You can speak directly to the students you want to recruit – the ideal students to grow your school community.
Measurable
You can set goals and track your campaigns by measuring email sign-ups, downloads, views, and form submissions.
The above reasons are why universities are focusing more on digital marketing than traditional marketing – often a harder to track and more expensive method of building awareness.
Best of all, digital marketing methods can work both individually and together to create a solid overall digital marketing strategy for a university.
Here are the five most effective digital marketing strategies for universities:
---
1. Search Engine Optimization
Search engine optimization (SEO) – the process of improving your website to increase its visibility in search engines – is the best digital marketing strategy for universities.
Without SEO, content marketing won't work – especially blog content. That's why we're an SEO and content marketing agency. The best content in the world won't do you any good if it's not reaching your target audience.
To put it plainly: You're wasting resources on your blog if you ignore SEO.
We know SEO works because we've been using targeted, search-friendly content to sell software, online education services, website hosting, and other products since 2006.
Now we also provide content marketing and SEO services to universities and other clients to help them generate consistent, affordable leads.
The vast majority of prospective students use search engines like Google and Bing to find information about universities and colleges. Since between 71% and 92% of people will click on a result on the first page when they run a search, it's essential that your university ranks well for the keywords prospective students are searching for.
There are a lot of steps when it comes to the SEO process, but it's not as difficult or complicated as some may lead you to think.
We put our efforts into three main elements:
1. Website
This includes technical SEO, site speed, and structuring your website to make visitors' experience smooth and seamless, but also work well for search engines.
2. Content
Including keyword-rich website pages, targeted articles, meta descriptions, header tags, title tags, high-quality images, and internal links.
3. Backlinks
Link-building by building brand awareness and managing your online reputation will improve the search engines and students' perceptions of your site's relevance and authority.
You can use SEO and content marketing to create an evergreen source of leads for your university that will continue to pay off for years to come.
For more information, check out our in-depth article about SEO for universities – or connect with us to find out how we can help your university get more leads through digital marketing.
---
2. Content Marketing
While there are nuances to every situation, content marketing for universities means creating and distributing free, relevant content to attract prospects and convert them into students.
When done well, content marketing drives organic traffic to your university's site. The visitors you attract with content marketing are actively looking for solutions to their problems and seeking information on universities that suit their needs.
The content you create can include things like:
Articles and blog posts
Videos
Podcasts
White papers
eBooks
Case studies
SEO and content marketing strategies build upon each other. So, before we create a content marketing plan for our clients, we start by compiling a list of high-value keywords. Then we use that list of keywords as the foundation for the client's content creation editorial calendar.
After all, every keyword represents a group of real people looking for solutions. When you optimize your content for search, you're putting your content in the path of prospective students who will find it when they search on Google.
To succeed with content marketing, though, you must do more than publish one or two pieces of content when you feel like it. You need to create high-quality, valuable, engaging content, and you need to do it consistently.
For example, the University of Denver publishes a career and professional development blog for students and alumni. The blog features upcoming events, internships, and an extensive archive of articles on topics like interviewing, salary negotiation, social media, and even handling burnout.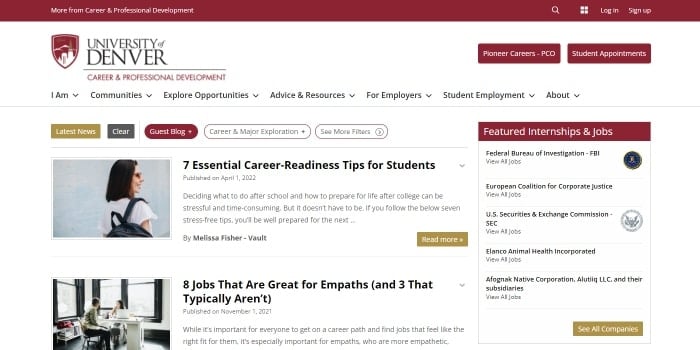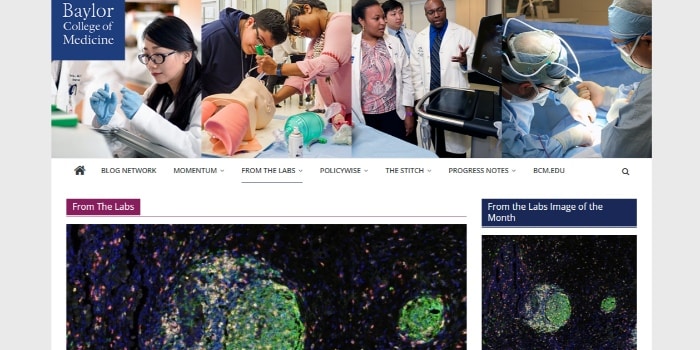 The Baylor College of Medicine's research blog, From the Labs, is aimed at medical and biomedical science students. The articles focus on the latest research innovations at Baylor and beyond, including genomics, neuroscience, public health, and genetics.
When we work with clients to help them develop their content, we map out a six-week editorial calendar based on that client's target keywords.
We provide a step-by-step framework for creating a content development strategy on our blog. You can use this process to create targeted, relevant content that helps attract more students to your university.
---
Interested? Let's talk.
If you're ready to experience the power of strategic content marketing and a flood of targeted organic traffic, take the next step to see if we're a good fit.
---
3. Email Marketing
When executed correctly, email marketing can significantly boost university enrollment and engagement with potential students. It can also help you engage with current students, parents, and alumni.
A simple newsletter gives you regular opportunities to provide consistent, valuable content, and it's a great place to start for universities that aren't yet using email marketing.
On your site, capture the email addresses of visitors by offering a lead magnet, then nurture those new subscribers with autoresponder campaigns and a regular newsletter.
You can create unique content just for the newsletter, curate valuable content collected from other places, or summarize and link to content you've published elsewhere.
Regardless of what your current marketing strategy looks like, you'll benefit from adding a simple email autoresponder and a regular newsletter.
There are two email sequences every university needs:
1. Welcome Sequence
(2-5 emails)
Start by sharing some of your most relevant content and getting your subscribers to know, like, and trust your university.
2. Conversion Sequence
(3-15 emails)
After your welcome sequence is completed, determine the most critical next step you'd like a prospective student to take at this point – is it to sign up for the campus tour or to understand application requirements? Whatever it is, have a goal in mind and make that the main point of the next few emails.
Every week, the students, staff, faculty, and parents in the Montana State University community receive an email from the MSU President recapping news, events, and happenings on campus.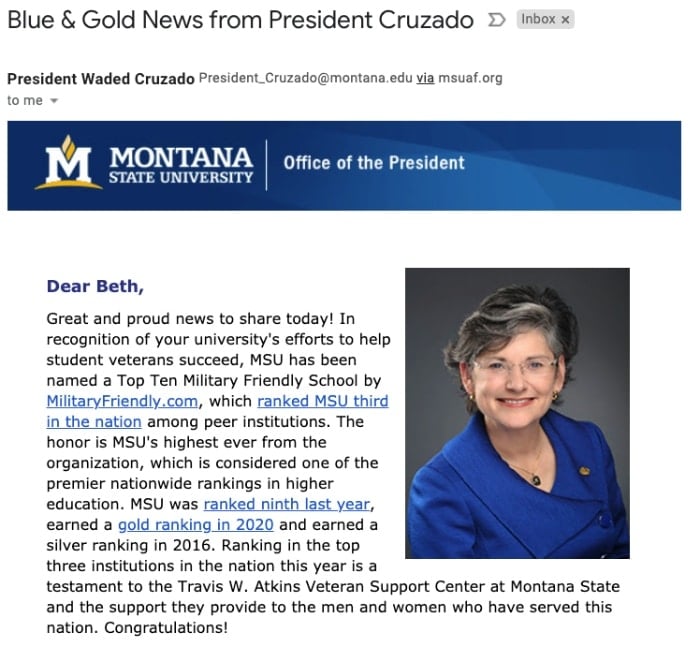 ---
4. YouTube and Video Marketing
Harnessing the power of video as part of your university's digital marketing strategy doesn't just allow you to engage with students in a meaningful way – it also showcases your campus culture, student body, and values as an institution.
Video is a versatile and accessible medium that helps convey your message in different ways; it can be an essential part of your creative content plan. You can easily measure the success of your videos by tracking views, form submissions, likes, and applications.
In general, short-form video content tends to perform better, and nearly every social media platform offers the capability to post short videos.
Topics can include:
FAQs
Virtual campus tours
Live Q&A sessions
Events
Testimonials and success stories
Chats with current students, alumni, faculty members, or deans
UC Berkeley's brand story video spotlights the university's history, as well as its unique campus atmosphere and research excellence.
UC Berkeley's brand story video spotlights the university's history, as well as its unique campus atmosphere and research excellence.
---
5. Podcasting
The podcast boom is here. In 2021, more than 41% of Americans listened to podcasts monthly, up from 26% in 2018.
Universities can make podcasting part of their overall content marketing strategy and use episodes to communicate with prospective and current students, alumni, donors, and staff.
For example, Purdue University's podcast, This Is Purdue, highlights the stories and accomplishments of students, faculty, and alumni.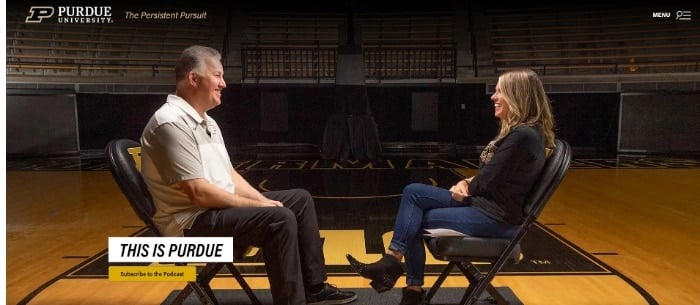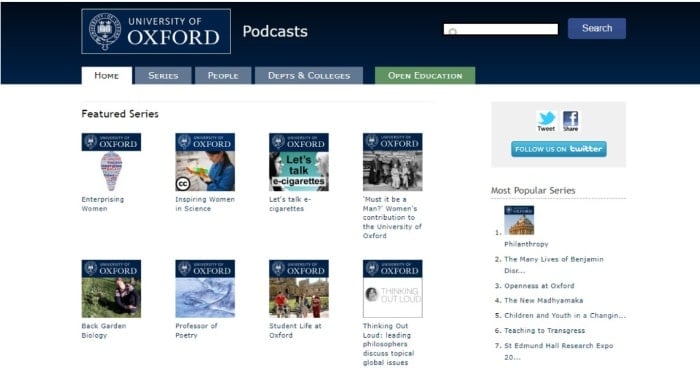 The University of Oxford publishes a wide variety of podcasts, including shows on Shakespeare, mathematics, the future of business, statistics, and history. The university also regularly turns lectures and seminars into limited series. For instance, a series of seminars on mental health by the Experimental Psychology Department is now available as a podcast series called Our Mental Wellness.
---
Create a Digital Marketing Strategy for Your University
If you want to build a successful digital marketing strategy that builds your brand and boosts enrollment, let us create a customized SEO and content plan for your university or college.
Take the next step to explore how our experts can build a content strategy that will make your school a top choice for more students every year.