How important is creative content when crafting an effective marketing strategy?
Very.
Audiences love creative content, and as a business, you should too.
Whether you're developing an online course, running an e-commerce store, or looking to grow your client base, creative content is one of the most effective ways to connect with your ideal customers.
But for creative content to work, it needs to resonate with your audience. The goal is to provide value to the people you'd like to attract organically to your business.
Since so much online content is repurposed, unoriginal, or unremarkable – unique content stands out. Creative content is your ticket to expanding reach, boosting engagement, and growing your business.
Let's Start With the Fundamental Question: What Is Creative Content?
Creative content is an umbrella term that refers to the many types of media that a brand uses to communicate with its target audience and promote its products or services. Different types of creative content include, but aren't limited to:
Blog posts
Videos
Case studies
Ebooks and guides
Social media posts
Newsletters
Research and data
Webinars
Podcasts
High-quality creative content should form a core part of your online presence and marketing strategy, as it allows you to promote your brand while making a significant, memorable impact.
Next to SEO – and often in combination with it – creative content offers some of the most effective methods to bring your audience closer to your solutions in an authentic, engaging way.
Now let's look at the different types of creative content for marketing and how they can be applied.
Get more leads with less effort.
If you want a steady flow of targeted leads, we've got a proven process for driving organic traffic and converting it into qualified leads.
The Most Effective Types of Creative Content for Marketing
There are several types of creative content. The formats best suited for your brand will depend largely on your business, your audience, and your goals.
Although we'll explain the most popular forms of creative content, the best one for your business is the one you can stick with long enough to get results. That's because each strategy takes time to build momentum.
The most effective way to build an audience is to regularly share new, high-quality content. Pick the one that feels right for your business, and be consistent. Once you've nailed it, consider adding other formats to reach audiences on more platforms.
Here are some of the most popular types of creative content for marketing, with examples of each strategy in action:
Long-Form Blog Content
Written content is a vital part of any content development strategy. Since search engines love relevant, quality content – updating your blog with helpful articles is an excellent way of increasing organic traffic to your site.
It's a form of creative content that businesses and marketers have used and refined for years. According to HubSpot, 48% of companies leverage blogging as part of their content marketing strategy, and 56% of marketers see blogging as an effective strategy.
So how do you get the most out of your blog?
By publishing long-form articles on topics relevant to your audience and making sure they're optimized for search so your ideal readers can find them.
Long-form blog articles are an effective form of content marketing for several reasons:
Demonstrate your expertise: They allow you to cover a topic in-depth, effectively answering the reader's search query while showcasing your knowledge and expertise.
Backlinks: Long articles tend to earn more backlinks than short-form content, leading to considerable increases in a page's ranking.
Search rankings: In-depth articles often perform better on search engines and allow for more strategic use of keywords.
Thought leadership: Due to their broad scope, long-form posts help position you as a thought leader in your industry and build trust with your audience.
Targeted leads: You can attract targeted leads when you create content to help readers with specific topics.
When used effectively, a well-maintained blog has the potential to expand your reach and audience.

If you're looking for inspiration to write articles that drive business, look no further than this Google flights guide by Scott's Cheap Flights. The writers effectively targeted a keyword with high search volume – how to use google flights to find cheap flights – and crafted an entire long-form article on the subject.
Beautifully formatted and backed up by dozens of relevant keywords, high-quality internal and external links, credible data, and well-placed images and videos, this article has earned Scott's Cheap Flights the number one spot for a search term closely aligned with its business.
Video
Video is one of the most powerful types of creative content when implemented well. According to research by Google, 55% of shoppers globally say they use online video to help them make in-store purchases, so it's an ideal vehicle for boosting engagement and increasing conversions beyond online transactions.
A study conducted by Statista showed the daily consumption of video content in the U.S. to be around 100 minutes per adult per day in 2020, proving that video is a critical marketing channel to capitalize on.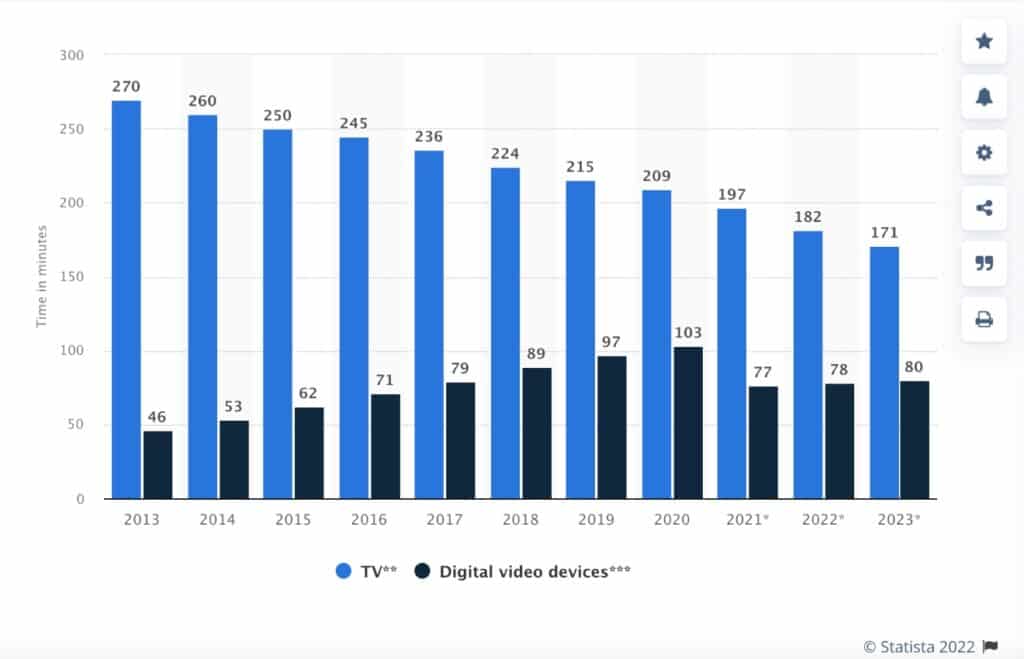 Video has certain advantages over written content because it can visually represent and explain a concept. Sometimes, this is preferable to a lengthy guide (although long-form written content has other benefits) when helping customers better understand your product or service.
Case studies
Case studies are a powerful marketing tool that demonstrates your expertise and builds credibility. By showcasing your past work, or your product's performance, you can provide powerful social proof and help potential customers see the real-life benefits of your services.
When done skillfully, case studies show potential clients how you can solve their problems. A well-written case study will sell without selling.
When you combine case studies with customer testimonials, you have a winning combination to build trust among your audience and increase conversions.
---
How an Improved Content Strategy Tripled Revenue for These Online Course Creators
Their content is always well-researched, backed by facts from the medical community, and enriched with personal experiences.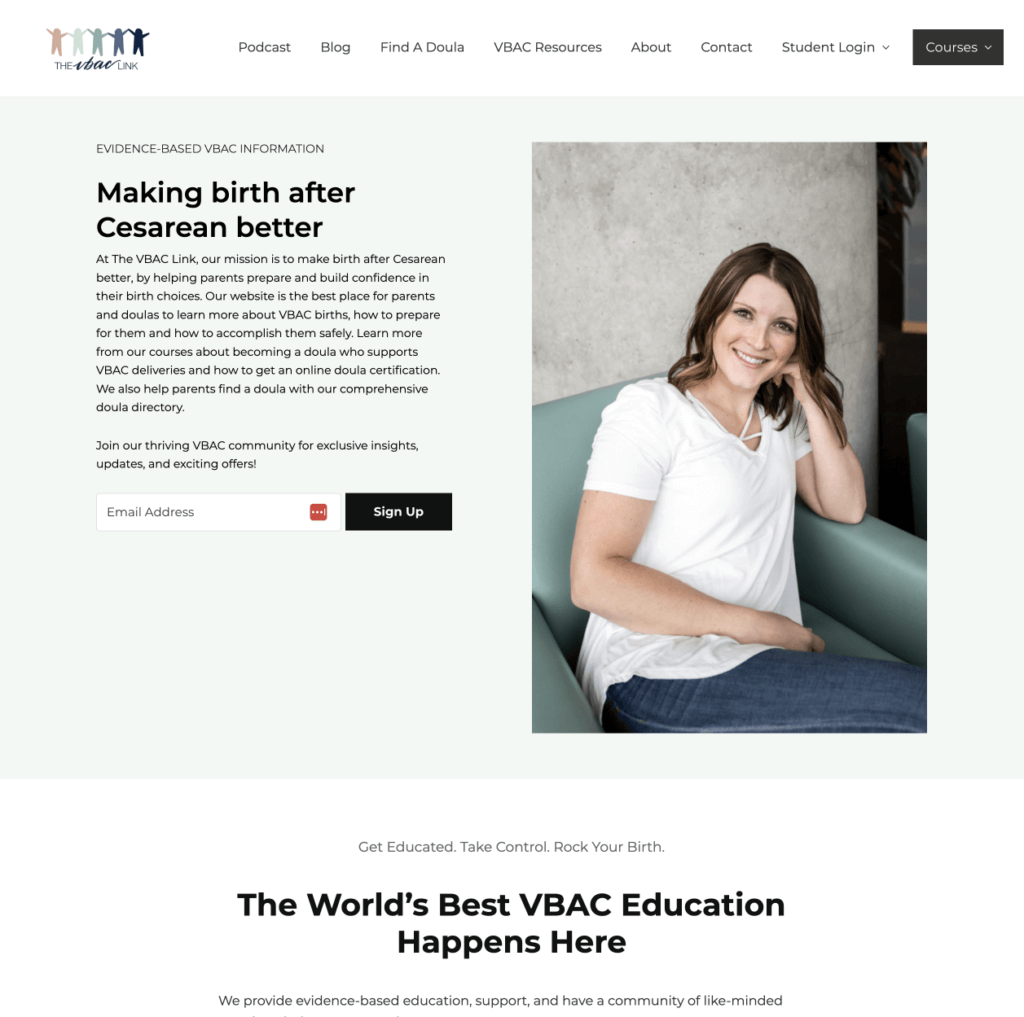 ---
This sentiment is shared widely among marketers. According to HubSpot's State of Marketing Report in 2021, 13% of marketers say case studies are one of the main components of their content marketing strategy.
We use this type of creative content often in our own marketing strategies, creating case studies like this one to show potential clients what we do.
Using a case study, we can demonstrate an in-depth understanding of our clients' challenges (getting traffic and leads), clearly lay out the solutions we've successfully implemented, and share the results (207% more search traffic and 10x more leads).
Ebooks and Guides
Ebooks and guides are valuable resources for audiences. They provide the length to craft highly detailed and informative content about your product, service, or industry.
This type of content is also a great way to build an email list when you offer it as a free resource delivered to the reader's inbox. This gives you another avenue to communicate with your audience and educate them about your business.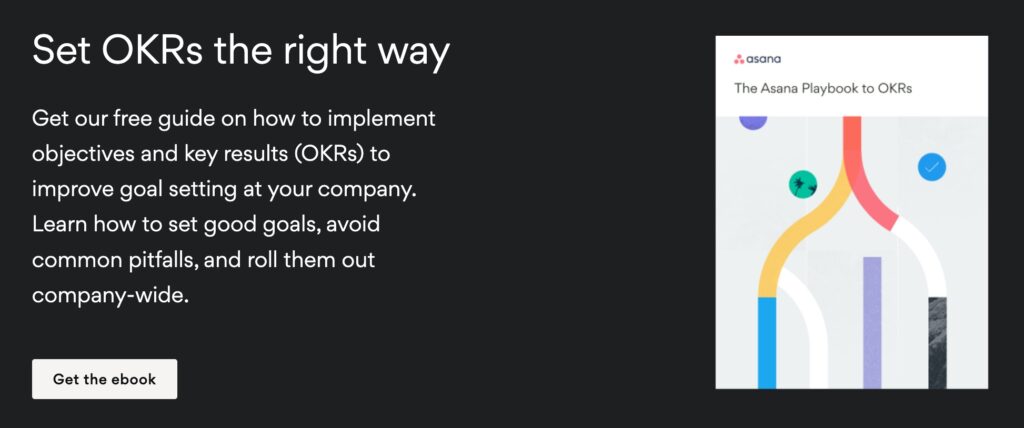 This ebook from Asana is a great example of how free content can be used to simultaneously provide value, build authority, and engage potential leads.
Asana uses this ebook to share its expertise on setting goals and implementing OKRs to readers interested in setting and achieving goals at the company-wide level.
Since Asana is an authority in project management, it has a lot of knowledge to offer, and readers are happy to sign up for its mailing list in exchange for helpful tips and advice.
Social Media Posts
Posting on social media is a fantastic way to communicate directly with your audience and showcase your brand identity. It also gives you access to invaluable feedback and data that you can use to fine-tune your marketing efforts and understand your audience better.
Like creative content, social media posts come in a variety of formats depending on the platform you're using:
LinkedIn relies heavily on written content and videos.
Instagram is more visually focused on images and videos.
Facebook is in the middle with a mix of text, images, and videos.
Twitter is great for firing off short, rapid thoughts.
With more than 3.6 billion people using social media worldwide, you can find a platform that works for you.
What makes social media attractive is that content can be shared easily and widely if it resonates with your audience, potentially increasing your reach.
Social media posts shouldn't be restricted to text; images and video are important components of high-quality, shareable content. According to these stats by Renderforest:
66% of people would rather watch a short video of a product or service than read a text.
75% of people are more likely to follow a brand if they have video content.
74% of businesses say that videos receive the most engagement on social media.
Email Newsletters
Email newsletters are a fantastic way to build a trust-based relationship with your audience.
And with more than 4 billion daily email users and email marketing generating a 38:1 ROI, it's clear that newsletters are an essential element of any content strategy.
An email newsletter enables you to consistently provide valuable content to, have conversations with, and receive important feedback from your audience.
It also allows you to increase brand awareness and deliver special news or promotions, but only once you've consistently delivered valuable content and built up trust.
The goal isn't just to generate traffic; it's about connecting with your audience and bringing them closer to the solutions you can offer. You should focus on creating an experience that lets your audience easily connect with your message.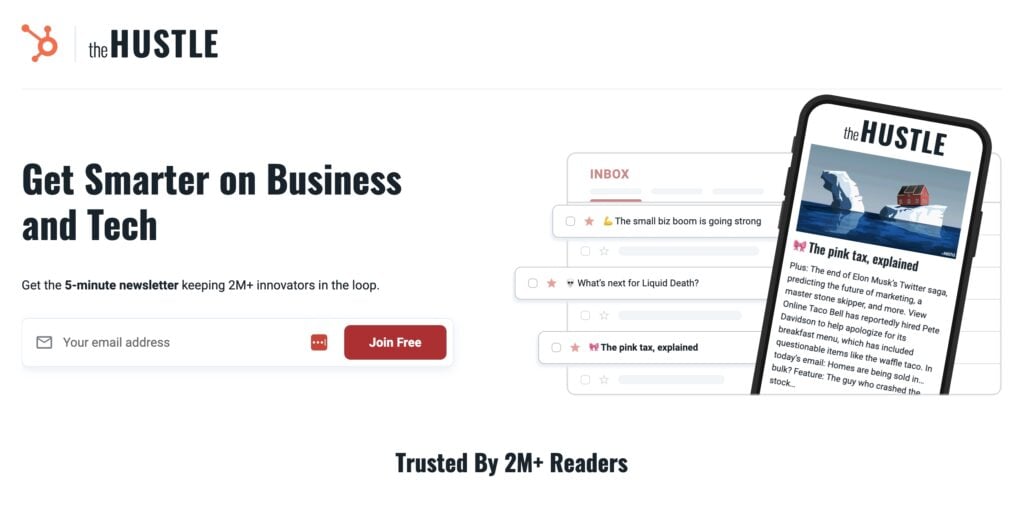 The Hustle, an online business and tech publication, is adept at crafting email newsletters. In fact, it's The Hustle's signature product.
As you can see from the above example, it uses the perfect balance of wit, humor, and casual tone to connect with its readers and prompt them to act.
In this case, The Hustle is asking their readers to share the newsletter with their friends, using a tiered reward structure as an incentive. It is also clear that The Hustle is willing to accept any critiques of the newsletter itself, which is a great way to build trust with your audience and let them know you're listening to what they want.
Get more leads with less effort.
If you want a steady flow of targeted leads, we've got a proven process for driving organic traffic and converting it into qualified leads.
Research and Data
If you're creating and publishing content, including research and data increases credibility and authority. The Content Marketing Institute echoes this sentiment by saying that 75% of people find that data-supported content is more trustworthy and persuasive.
By using data, you demonstrate that the content that you're publishing is informative and credible. This positions your company as an authority in your industry and attracts readers looking for usable, actionable content.
It's even better if you have original research you can craft into creative content – the type of unique data that gets shared widely and linked to often.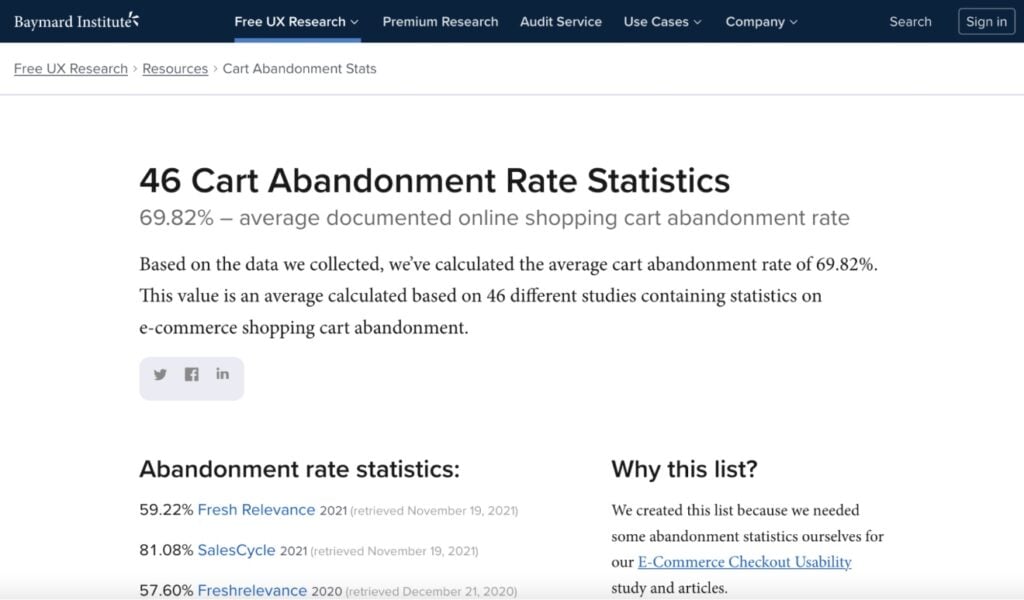 A company that does this exceptionally well is Baymard Institute, a site that heavily emphasizes original research and data in everything it publishes.
With research as the foundation of its content strategy, Baymard has become a trusted resource for e-commerce UX design. Its blog posts are referenced often in the UX industry, attracting backlinks and growing the company's reach.
Webinars
Webinars are interactive video presentations, workshops, or lectures hosted online that can be attended virtually by anyone.
As a form of marketing, webinars are great for:
Reaching new, faraway audiences
Boosting brand awareness
Positioning your brand as a thought leader in your industry
Helping your audience better understand your product or service
They're also good at generating high-quality leads, especially in the B2B space. According to GoToWebinar, 73% of B2B marketers and sales leaders say a webinar is the best way to generate quality leads, while B2B companies host 61% of all webinars.
You can also use webinars to reach new audiences when collaborating with other businesses or thought leaders in your field.
This presents the opportunity to access external but related audiences and encourage them to share webinar recordings with their followers, increasing your own brand's reach.
Podcasts
Perhaps no other creative content has exploded in the content marketing space as much as podcasting in the last few years.
With 41% of Americans listening to podcasts monthly in 2021 (up from 26% in 2018), podcasting is a veritable gold mine for demonstrating your expertise and communicating with your audience.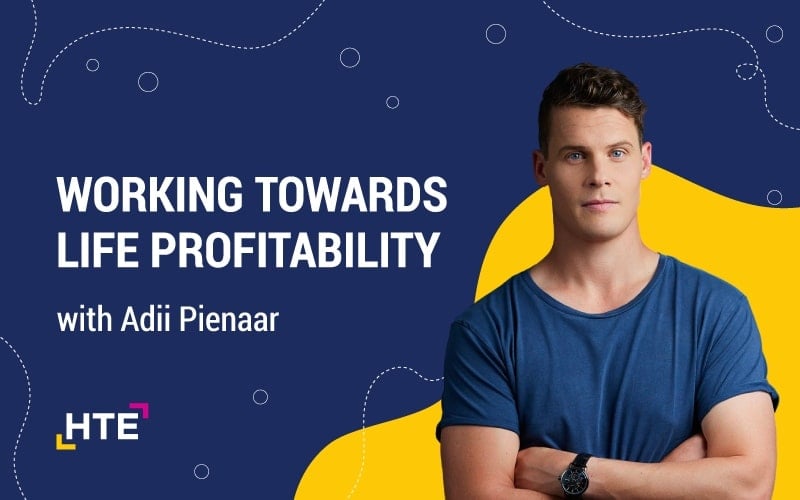 We've had a lot of success doing just that with our podcast, HackTheEntrepreneur. The podcast discussions touch on various entrepreneurial and business-related topics, including:
Successfully building a side hustle
Creating passive income
Coaching and consulting
What it takes to become an entrepreneur
Content marketing
Naturally, we have a lot to say on the topic as a content marketing agency. Interviewing other entrepreneurs, startup founders, and business people allow us to create valuable content and build authority while continuously expanding our reach.
Now that we've discussed the different types of creative content for marketing, it's time to apply them to your marketing strategy.
If you'd like help leveling up your content marketing strategy, take the next step and get in touch. We'll get you on the path to greater visibility, better leads, and more conversions.