How We Helped ADD.org Reach Another 114,548 People Per Month (in a Hyper-Competitive Market)
233%+
increase in
organic traffic
---
254+
featured snippets won
630.77% increase
---
3,532+
keywords in top 20
87.6% increase
"Despite our best efforts, our voice was lost in the crowd. With the help of Digital Commerce Partners, we've found ourselves heard by those we most wanted to reach – adults with ADHD."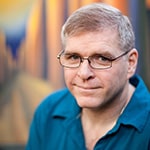 Duane Gordon
President, ADD.org
---
The Attention Deficit Disorder Association (ADDA) faced an uphill battle against a flood of online content, much of it from entities more interested in profit than helping.
This case study explores how Digital Commerce Partners (DCP) helped ADDA harness the power of SEO and a crystal-clear content strategy to amplify their voice and bring their message to those who need it most.
---
The Client: ADDA's Mission to Nourish the ADHD Community
Attention Deficit Disorder Association (ADDA), operating at ADD.org, serves as a resource hub and community for adults with ADHD.

Established in 1989, it's the world's largest online community for adults with ADHD, running mainly through the commitment of volunteers.
"ADDA has the authority and expertise to help millions of adults with ADHD, but we needed help being found online"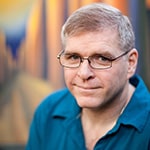 Duane Gordon
President, ADD.org
---
The Problem: Not Being Found by Those Who Need Them Most
Millions of people look online for help with their ADHD, and ADDA was not found by 99.9% of those people – not due to a lack of authority, but because they couldn't compete against those with an SEO strategy.
ADDA faced the mammoth task of standing out in an overcrowded ADHD online space. Despite a treasure trove of resources, ADD.org was overshadowed in SEO rankings and experiencing dwindling traffic.
"We wanted to help adults out there with ADHD. But how did we let them know there's help? We needed to reach them, but didn't know how." – Duane Gordon
This meant that the genuine voice of ADDA was being eclipsed by profit-driven companies.
"Being in a highly competitive field like ADHD, with limited resources, was an uphill battle. We were up against organizations that had perfected their SEO and content strategy game for years." – Duane Gordon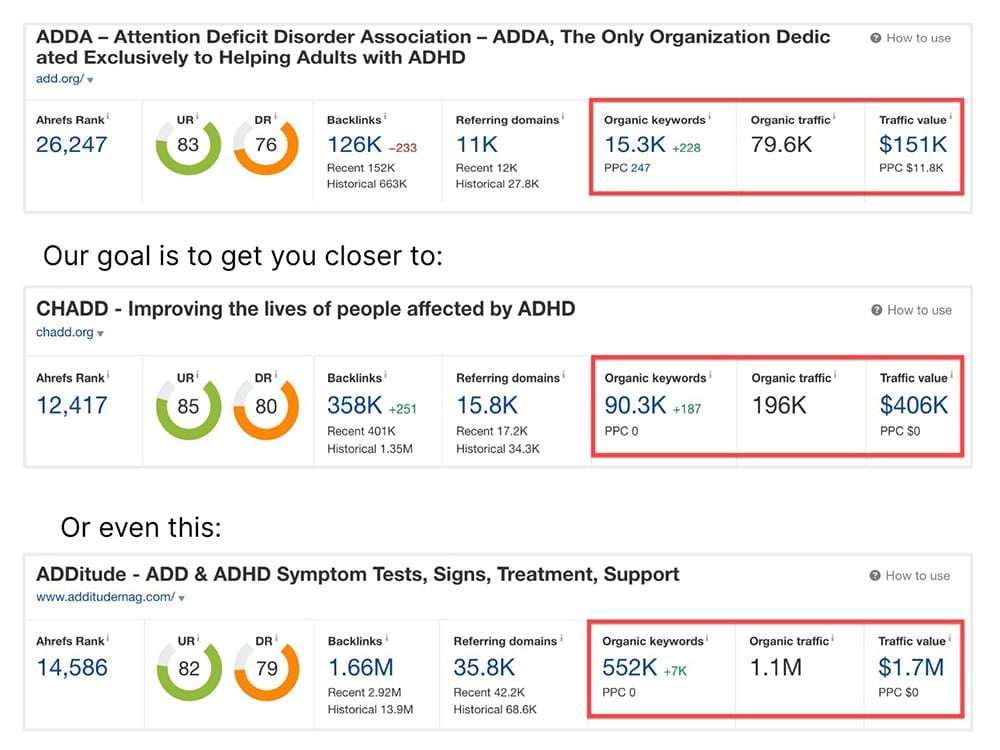 ---
SEO as a Strategic Investment
ADDA needed to see SEO and a content strategy as a strategic investment that would provide them an opportunity to help 8+ million adults with ADHD live better lives every year.
Before DCP, ADDA spent over a decade creating content to get more traffic. But without a strategy or any SEO research, it didn't work.
"We had a plan – that was to create more and more content. But we never had a strategy for that content. It was always just more and more and more." – Duane Gordon
---
The Solution: Content Strategy – From Analysis to Execution
Digital Commerce Partners took the challenge head-on and got right to work.
Keywords and Conversion Mapping
We started with a rigorous analysis of ADD.org, followed by keyword research and content mapping to a conversion funnel.
"By the end of 2021, we realized if we wanted to be competitive and serve the people, we needed to get our website and content organized." – Duane Gordon
But traffic alone wasn't enough. Implementing a conversion funnel turned the tide dramatically.
"Traffic without a destination, without something to do – doesn't do any good. But after DCP implemented a conversion funnel, our subscriber list doubled overnight!" – Duane Gordon
---
Internal Link Targeting, Content Clean Up, and On-Page Work
With some clever targeting and on-page optimization, we boosted a number of pages from the second to the first page of the search engine results, significantly increasing their traffic.

For example, the article on body doubling achieved 10x organic traffic growth in three months.
"Prior to working with DCP, we couldn't even rank an article written by the person who coined the term 'body doubling.' So it was satisfying to see DCP work their magic and get us back to ranking #1 for this important topic." – Duane Gordon
---
Reverse Engineering and Winning Featured Snippets
Featured Snippets are those coveted snippets of text that appear at the top of Google's search results to quickly answer a searcher's query.
The content is automatically pulled from articles in Google's index – but 'automatically' doesn't mean randomly. So we've created a process to 'reverse engineer' these snippets and win them for our clients.
---
Implemented EEAT Guidelines to Highlight ADDA's Expertise
We analyzed dozens of prior articles and spoke with Duane to put together a comprehensive style and brand voice guide, while ensuring all sources used met Google's strict E-E-A-T guidelines.
"I just glance through the articles to make sure they follow our principles, and they do. They all do. They don't look at having ADHD as being broken." – Duane Gordon
ADDA has the experience and expertise to be a leader in the adult ADHD space – we just needed to ensure this was prioritized and followed Google's strict guidelines.
---
The Results: Reaching (and Helping) 114,548 More Adults Every Month
The results were monumental. Within 12 months, ADD.org's organic reach skyrocketed:
233% increase in organic search traffic, reaching 114,548 more people per month.
254 featured snippets won – a 630.77% increase.
3,532 keywords ranked in the top 20 – an 87.6% increase.
"It's fantastic to see just how much all this work has paid off. We're finally getting in front of the very people we want to help." – Duane Gordon
---
233% Increase in Organic Search Traffic
It always takes a few months to kick in, but then our clients trust our process – and the results speak for themselves.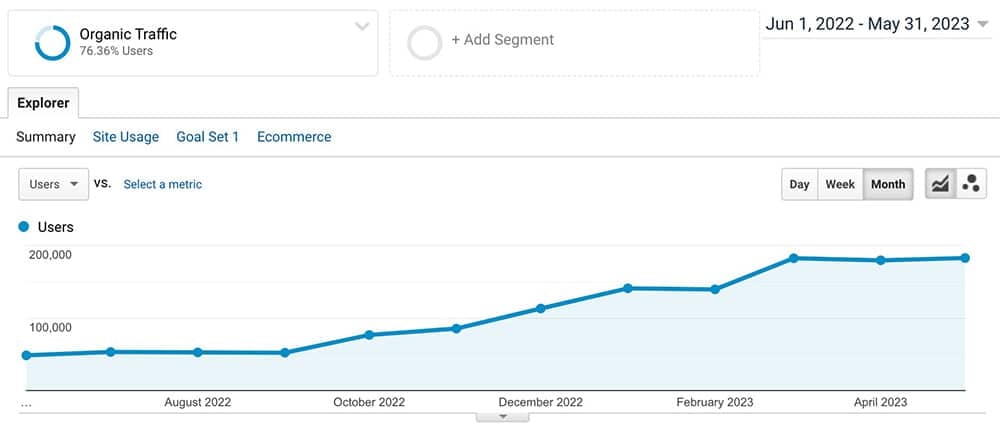 ---
254 High-Value Featured Snippets Won
Our process of reverse engineering Featured Snippets is not only a huge traffic win (it is!), but we only target extremely high-value keywords for our clients.
Monthly organic search volume for 'ADHD Paralysis' is 21,000.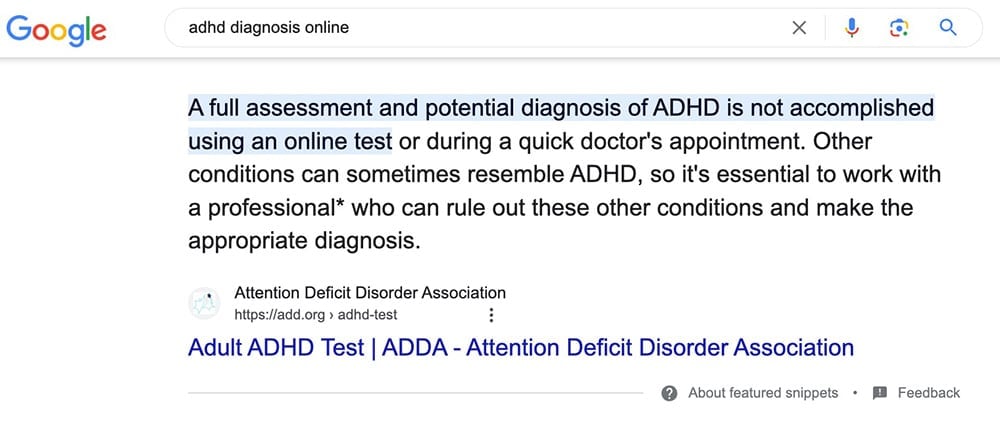 Monthly organic search volume for 'ADHD diagnosis online' is 4,200.
---
3,532 Keywords Ranked In The Top 20 (Up 87%)
An effective content strategy targets each part of the conversion funnel. To do this, we went both deep and wide for ADDA's organic footprint.
Although we wanted to rank for highly sought-after topics like "Adult ADHD test," we also wanted to ensure we targeted adults in all stages of their ADHD journey – from prediagnosis to decades into their adventure.
Our strategy has now given ADDA ownership of 3,532 keywords in the Top 20 search results.

---
Benefits Beyond the Numbers
More than statistics, ADDA began ranking for terms that truly matter to the ADHD community, not just profit-seeking companies.
"There's a lot of suspicion out there. People are always wondering if you're trying to profit off of them. That's not us." – Duane Gordon
The partnership with DCP changed how ADDA approached growth.
ADDA can now focus on what matters to them, helping adults with ADHD because they know the strategy DCP put in place works.
"Working with DCP is great. You're like an extension of my mind. I think of how I want something, and you make it happen."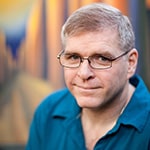 Duane Gordon
President, ADD.org
---
Get more leads with less effort.
If you want a steady flow of targeted leads, we've got a proven process for driving organic traffic and converting it into qualified leads.